I promise...
Good early morning to you, November. You feel like early summer. I promise to enjoy every day of you without panicking. I am going to be a calm, consistent gardener, and I won't forget to water anything - promise! Ha!
Brick Koru Courtyard
Tuesday 1st November, Later...
Out comes one of the summer weight favourite gardening shirt (swirly pale greens and duck-egg blue - and out I go to do a grand day's work. OK. I quasi-moaned (last month) about the roses in the Hazelnut Orchard and their attendant weeds - especially the clover. But moaning, even of the fudged 'quasi' or 'semi' kind, is outlawed in this journal.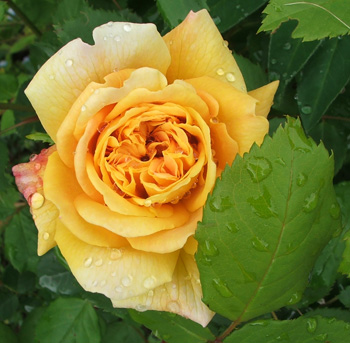 Early Golden Rose
So I've taken steps. All the roses are weeded around their bases now, and I've left the weeds in the archway path to be sprayed by Non-Gardening Partner.
Oops...
I also owe him an apology. Only one of my new climbers (Spek's Centennial, a yellow) has died, I've pruned the others which were sulking, and I've put on the water drippers. These new roses were planted late last summer, anyway. Naturally it was NGP's fault when they didn't grow well...
My Dog Eats Hazelnuts
And all the while I've been working Rusty the dog has been nearby, crunching hazelnuts shell and all. Eat, eat, eat - it's all he thinks about. No wonder he is shaped like a furry coffee table again. I've also raked up most of the lawn clippings, and put them on the Stumpy Garden to cover the latest horse manure. And I've trimmed edges, and watered the glass-house plants.
Pink Rambling Rose
The heirloom tomatoes are ready for individual pots - I'll do that later. Ha! I'm allowed to write down just one task ahead. One item is not a list, and of course I've banned all scary lists of things to do from this journal, hee hee.
Even Later...
I ended up in the Shrubbery watering and weeding around the old-fashioned roses. I hope they'll give me some sort of flowering show this summer (I can see them from Pond Cottage).
Fruhlingsmorgen Rose :

Fruhlingsmorgen is a beautiful once-flowering shrub rose.
So far the lemon yellow Canary Bird has flowered, and Fruhlingsmorgen rose is just starting (it's quite fragrant - I didn't know that). Phew - this year there are no sheep in the ram paddock to nibble off the fresh new rose shoots.
I really, really, really want Omar Khayyam to flower - such an evocative name. Last year my pet lamnb Stu ate everything remotely green off it. So I'm going to water these roses deeply and well for a few weeks.
New Blue Rhododendron
Garden Tools as Reward
Great excitement! I have just picked up a brilliant (and exceedingly well-priced) reward for today's hard work today - an assortment of new (recycled) garden accessories.
They are, in no particular order: a ladies' spade and shovel, a modest blue wheelbarrow which doesn't leak, a watering can, a fairly new, large axe, nippers, three old-style garden hand tools, and a sturdy looking bow saw. Now - how long until I lose half of them? Aargh! Don't tempt fate...
Wednesday 3rd November
Some cats are so needy! It's like having a tame toddler, who wants to do everything I do. Big Fluff-Fluff the cat now has to have his own seat next to mine, by the computer. It's either that or he tries to sit on the keyboard, leaving ctyptic messages, or logging me off. He is far too big and heavy for the Moosey lap...
Shane the Ginger Gnome
The day has started by raining, which is a good thing. So this morning I'm going to do some web-gardening, interspersed with pre-recorded TV watching (Downton Abbey, I'm afraid). Would I rather be gardening? Some might consider Downton Abbey is as drippy as my garden is...
Later, Lunchtime...
Accompanied by the soaring tutti of that wonderful guitar concerto whose name I can't spell I'm having a short lunch break with the gardening Ipod. I've been gardening for three hours. I've trimmed and weeded in the Pond Paddock, planted some daisies in the cottage's garden, and popped my heirloom tomatoes into up-sized pots. I have far too many, so hopefully my friends will like a plant or two. Or three. Let me see now - how many friends do I actually have?
Two Hours Later...
I've been gently clearing the path around the pond and taking photographs. Shane, my ginger bearded gnome, is the Gnome of the Day, hee hee. He's a character! Rusty the dog has been barking at the bellbirds and chasing bumble bees. Nothing quite as strenuous for me - and I haven't even burnt the bonfire rubbish. I have two more episodes of Downton Abbey to enjoy - as soon as I've finished ALL my web-work AND my Brahms piano practice. Stern words!