Roses, roses, roses...
Roses, roses, roses. I love you all, even if I know barely half of your names. And the warmest of welcomes to the 'new' recycled roses, flowering for the first time. You are all very beautiful. Enjoy the rest of your life in my garden...
New Recycled Roses
Monday 28th November
I'm ready for a day's hiking, so before I leave I'm going to pop out into the Hazelnut orchard, look up and around, and enjoy the archway roses. I won't look down at the weeds. Don't want to spoil things so early in the day, hee hee...
Minutes Later...
The archway roses look wonderful, but I'm not convinced that some are climbers. The Uetersens definitely are not. Others like Ghislaine de Feligonde are far too fat to mould themselves over an archway. The best rose of the morning? Though it pains me to say it, Parkdirektor Riggers. At least he knows what he's supposed to do, and is doing it - silly bright red rose!
Parkdirektor Riggers Rose - Early Days
Oops - my car won't start. So I may not be going anywhere!
Later...
My friend took her car - phew! We went to Washpen Falls, and up the back hill to Snowy Peak - at this time of year better called Windy Peak, with that classic high country look of sparkling tussock grasses moving en masse in the wind. Just beautiful.
On Snowy Peak :

Snowy Peak is the most beautiful lumchspot in the whole world, hee hee. And Washpen Falls is a very beautiful waterfall.
My friend is visiting from the USA, and asked an interesting question. What's the difference between 'hiking', 'tramping', 'walking'. and 'trekking'?
My answer: Real New Zealanders go tramping, wearing tramping boots, over rough, challenging terrain, around serious mountains, up nasty ridges, down rocky gullies... Tramping is hard work, and New Zealanders are proud to tramp in their back-country mountains.
But when New Zealanders go to overseas to Nepal they go 'trekking', and porters possibly carry all the heavy things. Trekking isn't quite as personal. Then 'hiking and 'walking' mean gentle no-slope hills, level tracks, and maybe some pretty Northern Hemisphere forest scenery - lightweight, nothing scary. I usually use the word 'hiking' in my journal so non-New Zealanders might know that I mean 'tramping'. Confused?
Sir Benjamin Britten Rose
Tuesday 29th November
My car, misbehaving still, is at the mechanic's for the day. I'm playing chamber music (not written by Sir Benjamin Britten) and then I'll garden gracefully, feeling slightly 'worn' as result of yesterday's hiking/tramping expedition.
OK, it's a list, but a reverse looking one, sprinkled with the essence of cheerfulness...
Things I am NOT going to do today:
I am not going to dig out any more Agapanthus.
I am not going to dig out three climbing roses.
I am not buying any more gnomes, unless they are vintage retro beauties.
I am not going to grump about achy stiff joints after hiking.
Hee hee...
Lunchtime...
I love playing chamber music - listening, giggling, playing almost all the notes, and being really inspired. I am quite good at this! Now the garden beckons, and I'm thinking of doing a gentle wander with edge clippers in hand. Overnight rain has again freshened up all the borders, and wind has caused some more lupins and irises to droop onto the lawn. Some of the longer rose canes have been blown askew, too.
Phyllis Bide Roses
Two Hours Later...
Add another half an hour to get all the biddi-bids off my jeans and shirt. I've been clearing forget-me-nots out of the Stumpy (AKA Willow Tree) Garden. Oh boy. There are soooooooo many! And now I have created lots of spaces in the borders - not for weeds, please! I'm about to take a break from creative thought and watch the latest (recorded) Bachelor. Oops.
Wednesday 30th November
Hello to a morning which whispers 'summer', but oh so gently, with Graham Thomas and Phyllis Bide roses flowering, the irises finishing, and unforgettable foxgloves popping up everywhere. I love my foxgloves - apricots, whites, palest pinks, and the species magenta. I must cherish this early summer day, with no wind, and no glare, and no tired flowers. Right. I'm off swimming, perhaps a quick trip to the Ecostore, and then home - to whatever I feel like doing...
Later, Lunchtime...
Oh dear. This has been my silliest day ever. I did call in at the Ecostore to look for some cheap plastic tubs in which to plant the patio cherry tomatoes. Oh yes - I did buy two, but there's more.... Much, much, much more...
(Takes a deep breath and suppresses a nervous giggle) I have bought six concrete cricketers: one droopy-moustached umpire, white hat pulled low over his eyes, two mature Australian batmen (I think one must be Merv Hughes), a bald bug-eyed New Zealand fast bowler just about to release the cricket ball, a pot-bellied wicket keeper, and a very frightened slips fielder, hands cupped ready for that elusive catch. All are about knee-high.
Cricketers
These chaps are the silliest things I have ever, ever, ever seen in a recycle store, let alone purchased and loaded carefully into my car. I paid as much money as two large legs of roast lamb would have cost - a somewhat flaky financial justification, hee hee...
Ridiculously Random Garden Accessories...
This initial far-too-sunny photograph will suffice until I've cleaned them up and sealed them. Then I'm making them a wee cricket pitch on the back house lawn, with appropriately sized stumps and bails. Oh dear, dear, dear. And some research is required - I think they must be caricatures of actual famous cricketing men. Hee hee. What ridiculously random garden accessories!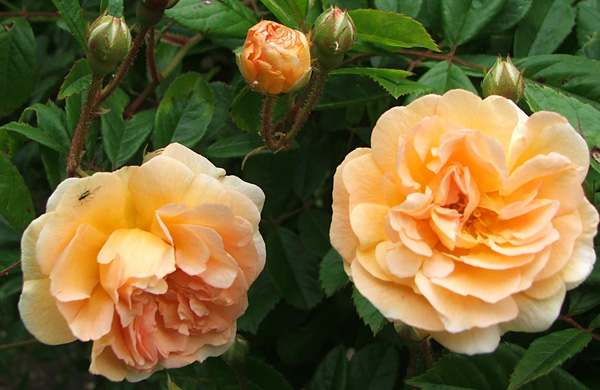 Ghislaine de Feligonde Roses
As far as strictly gardening goes, I've been feeling a bit moochy, after the euphoria of buying six cricketers. I mean, this doesn't happen to a gardener every day! I now need quite a few bags of potting mix for the tomatoes, and I do NOT feel like getting forget-me-nots all over my clean gardening clothes. Hmm...