I need some discipline...
Right. No more drifting about - it's time to take my daylight hours firmly in hand. I need some discipline. I'll write down a personal list first, then move onto my garden plans.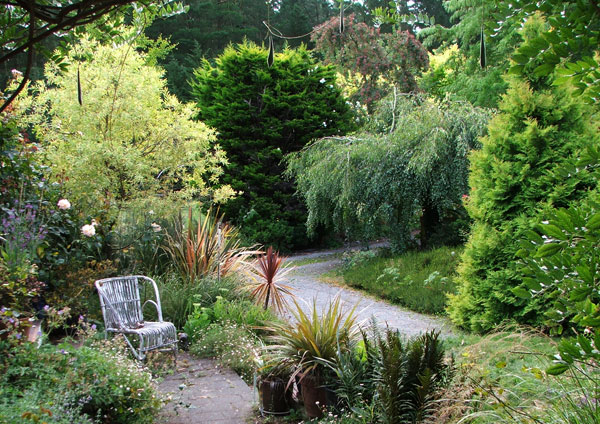 Summer View from the Patio
Sunday 13th February
It's just that I've been busily doing all sorts of non-gardening things. But I'm not totally happy when I miss too many gardening hours. And possibly I feel a little guilty having such a big garden and ignoring it for days. Hmm...
Anyway, here's my list, and I promise to take notice of it.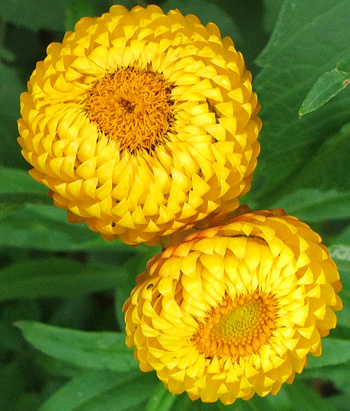 Yellow Strawflowers
1. Ditch the Jigsaw
Too big (3000 pieces), too slow, taking far too much time, too pointless (please note I haven't admitted that it's too difficult - no puzzle which has a unique solution ever is). And Fluff-Fluff the cat keeps lolling all over it breaking bits off.
2. Love the Cottage
Wonderful views of leafy trees out the windows and doors, gnomes on the far side of pond now clearly visible, small border garden needs work (straggly Pelargoniums to be removed and put in a pot).
3. Enjoy the Crafts
Rag rug now going well (after initially increasing too many stitches - had to unravel and start again). Have also started a second machine patchwork cover for upstairs couch, Samoan ocean shades (blue, blue, and then more blue).
4. Play the Piano
Albeniz's Jerez for solo, Schumann's Violin Sonata in A minor for duet with Non-Gardening partner (violinist), plus all the lovely flute and piano music (Faure, Bach, Poulenc, Quantz...)
And the Garden...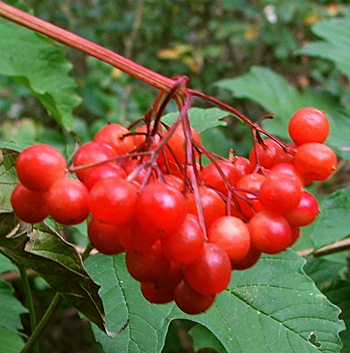 Red Currants
And now to my raison d'etre for breathing and being happy - my garden. Today before morning tea I will tidy up around the Shrubbery's courtyard. Overgrown Anamanthele grasses can come out. Then I'll take morning tea and contemplate the rest of my day. Ha! I seem to have myself pretty well organised.
Later...
Ha! All has gone according to plan. Something funny to report - the 'some sort of Philadelphus' shrub which I bought for one dollar years ago and planted in the Shrubbery has finally shown its true colours. It's a red currant bush! Hee hee... Oh well, at least I know now.
The Shrubbery seems desperately dry, so I've got the hose on, and am bucketing water onto the old roses. They're just not thriving yet (thanks to the sandy soil and the attentions of Charles and Fred my two munching merinos). But these roses have the rest of their lives to get properly organised and start flowering, I reckon. I've spread lots of pea straw around them to try and help. I've also enlarged the little pond garden that I gaze out at from the cottage, and fortified the soil there with some potting mix. The Pelargoniums are in a stylish green pot. Nice!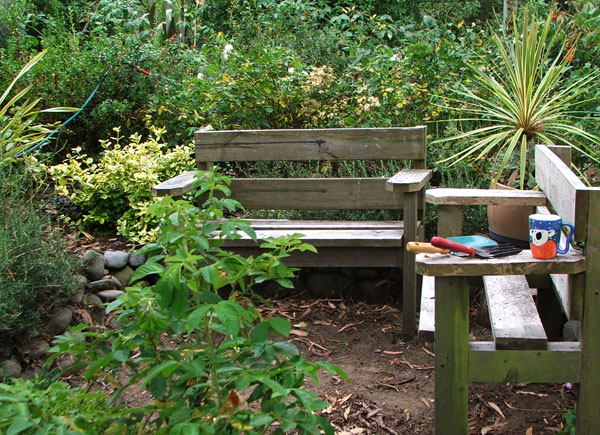 Morning Tea on the Rustic Benches
By the way, I took morning tea on the courtyard's rustic benches, and Non-Gardening Partner and I had lunch on the Adirondack chairs, upon which I reckon one could balance a five course meal. Later NGP fixed the irrigation so that it won't pour in through the top of Pond Cottage's window and wet the bed (oops). Nice work, NGP, and thanks for trimming the Locust tree. Now there's the small matter of some Schumann violin practice - you promised, remember...
Ingrid Bergman Red Rose
Monday 14th February - Valentine's Day
NGP says I'm easily pleased for Valentine's Day - no exorbitantly priced bunches of imported red roses, thanks very much. I'll settle for my own red roses - Parkdirektor Riggers blooming away in the orchard, and my new Ingrid Bergman hybrid teas which have been heavy, floppy, and really lovely. I just want the big irrigation on (already done) and all the lawns mowed. Very easy!
Cats and Pond Cottage
Pond Cottage was not so pleasant last night, due to cat activity. Fluff-Fluff, restless, kept jumping onto the verandah outside with an enormous thump (well, it sounded enormous in the middle of the night), then would leap in the open window. And the cottage would rattle and shake (well, it seemed to rattle and shake, in the middle of the night). Then out he'd go again - thump!
Then little Minimus arrived on the bed, growling in triumph. Yes - Aargh! She'd brought me a small (dead) rat, which she proceeded to fling underneath my pretty white lace chair cushions. I never thought the Pond Cottage broom would become so useful...
It's raining so I'm off swimming to clear my sleep-deprived head. Cats... And when I get back I have a plan - it's another 3000 piece jigsaw, but this one has a 'bigger' picture with clearer greenery, and it may be more fun. Some people never learn?