A deep gardening secret...
Ah, the garden, the garden. How easy it is to clean up an area when it was already cleaned up last year. If I think I've discovered a deep gardening secret...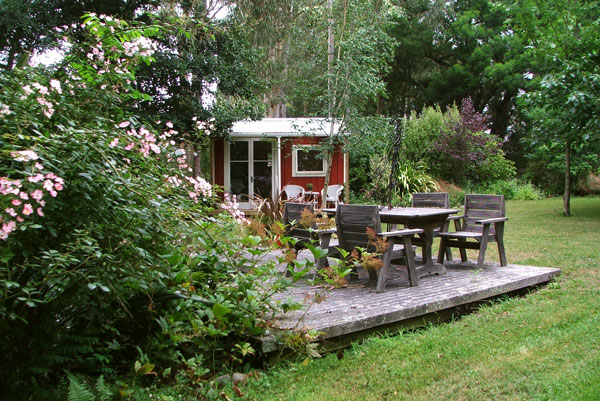 Pond Cottage in the Pond Paddock
Saturday 19th February
I'm back from some energetic swimming and now I'm going to continue my reorganisation of the rough areas (or, to use a more romantic phrase, the wilderness areas) of my garden. Just one path in the Hump remains to be closed off completely. It wanders low into the general scruffy mess and I'll never use it. The birds have rather nicely scuffled the mulch and horse manure all over the place for me, which suggests a garden area anyway!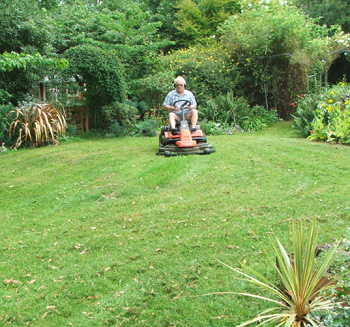 Mow Those Lawns!
Eco Chic!
My friend has a new adjective for my 'style'. It's called 'eco chic', where someone recycles or upcycles (maybe downcycles?), decorates Pond Cottage (their lovely little retreat) with goodies from the charity shops, crochets rag rugs out of old curtains, rescues garden gnomes whether they be so-called vintage or not, and so on. Hee hee. I rather like being called 'eco-chic'. It doesn't sound the least bit pretentious, does it?
Right. Non-Gardening Partner is mowing the lawns, I've been shifting garden seats back and forth (quality control), and it's time I did some gardening work. Hopefully later today I will be the proud owner of two large Agapanthus clumps. I know where I'm planting them even before I've won the auctions, a recipe for disappointment...
Four Hours Later...
Hmm... No Agapanthus yet, so I've been pulling some clumps of Renga Renga to pieces to build new plants. Local gardeners often call this New Zealand Agapanthus anyway. And it's free... I've organised the paths in the Hump. But old habits die hard, and I just couldn't resist extending the path behind the Shrubbery. There are some delightful self-sown Pittosporums and Ake Ake trees underneath the big pines here, and the pine needle mulch is perfect.
Wattle Woods Main Path
Up by Rooster Bridge I dug out some over-sized Anemanthele grasses and shifted Hellebores which were making the path a bit narrow. Then I raked up lots of mess off the paths, really quickly. I'm very pleased with my gardening day. Ken Druse, a wonderful garden writer, says that gardening is four dimensional - with time being the fourth dimension. I guess he's talking about the weeks and months (and years) that plants take to grow. I can thoroughly recommend ten minutes with the rake!
Sunday 20th February
Ha! In my newly discovered 'eco chic' style I am up and dressed, and about to fix yet more paths - these are in the Wattle Woods. One used to (note the past tense) wriggle up and behind the glass-house, pushing its way cheekily through the rugosa roses. Well, the roses have won, and I'm not trimming them to bits just so I can blunder through. So this path, one of the earliest, an heirloom in Moosey times, will be retired. Ex-paths leave natural spaces in the garden, so access isn't totally lost.
I've purchased one large clump of Agapanthus, am looking at more (but I'll have to dig them up), and have bought a bulk lot of daffodils (450) which have been dug up from another garden. Oops - it's about an hour's drive away, but hey! I can go on a car-adventure later this week.
Late Lunchtime...
A legend! The Wattle Woods paths can now be added to the ever growing list of organised garden wandering routes - which is just as well, since there will be garden visitors coming in a month or so. I've shovelled in ash to fill the retired path, blocked it with stones, a large tree stump, and a Phormium in a pot. Anyone who tries to go clattering in further would be very silly indeed. I notice that one of the rugosas sends out suckers, which are now free to grow.
Strawflowers
And the bread-maker has just pinged, which is perfect timing. So Non-Gardening Partner and I can have a lovely lunch, during which I'll ask him sweetly to do some chain-sawing for me.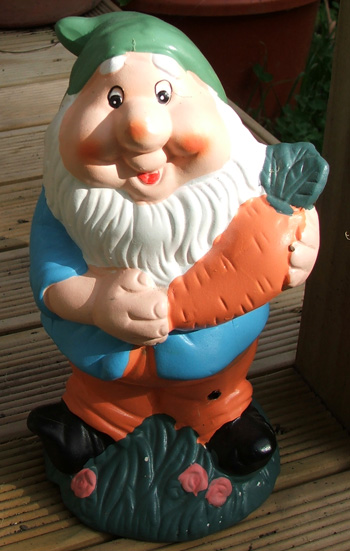 Another New Gnome
Much Later...
Hee hee. I have been wandering around the orchard (oops - must weed underneath the archway roses) rehearsing my speech to the garden visitors. Never mind that I am four or five weeks early - here goes. Smiles at ladies and says:
'Welcome to my garden. I hope you enjoy your visit.'
So far this is pretty ho-hum. Needs some descriptive content. Continues:
'The garden is not neat and tidy and manicured.'
No - stop! Far too negative and defensive - turn it around. Continues:
'The garden is wild and rambling, with paths that curve in and out past my favourite foliage plants. The sunny borders are crammed with roses and flowers for every season.'
Hmm... Needs a bit more explanation of my messy gardening style. Continues:
'A garden underneath gum trees can never be manicured, so you'll see plenty of tough scruff - I've always got time and space for survivors. And I love using New Zealand natives in with other ornamentals. I don't spray my roses, so by now the bushes will be looking a rather tired.'
This should placate anyone who is offended by blackspot on the rose leaves. And now for the finale. Make a good impression, without sounding totally random and half-mad.
'I'm always busily changing one thing while I'm forgetting about another. There's only me to look after everything, and I have so much fun - I love it. I hope you'll enjoy your visit.'
Nice. Vague enough to explain half completed projects and weeds etc. Suggests modesty, relative sanity, and a good work ethic? Hope so. I haven't attempted to explain the garden gnomes, though. Maybe nothing needs to be said? Hee hee.