Time to rationalise the dahlias...
Floppy Pink Dahlia
It's mid-autumn, and winter frosts will be here all too soon. The dahlias are blooming as if their life depended on it (it does, in a way). Un-staked and un-dead-headed, they look gently disgraceful, but oh so colourful. I am a hopelessly reactive, forgetful dahlia grower. I suddenly have the urge to dig and replant - it's called 'rationalising the dahlias', and it always happens at completely the wrong time of year.
These last bursts of flower colour before the first frost strikes are magical. But why don't I sort them out when the new shoots appear in spring? No chance of that - they're completely ignored. Anyway, I've made a list of what I consider are my dahlias' needs. In my garden the tubers will winter over successfully in the ground, if I want them to.
Sunshine - 8 hours a day. Wow!
Stakes - oops.
Winter store in cardboard box, lined with newspaper, on sand.
It's a pretty minimal list. So will it help?
Later...
OK. Is a gardener who writes semi-personal and garden stuff allowed to stray completely off-topic? Life, after all, goes off-topic in the blink of an eye! So the answer is yes.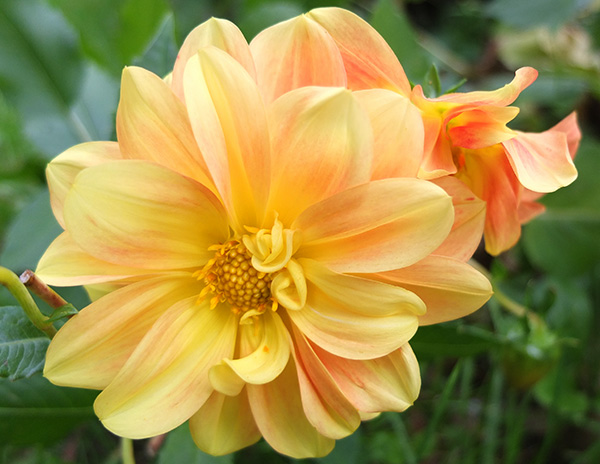 Autumn Colours Dahlia
Taking advantage of a gap in the wet weather, and some almost-sunshine, I spent four hours burning my bonfire. The wet backlog needed some encouragement with fire-starters from the house and barrowfuls of gum leaves, which I raked up from the Hen House Gardens and paths. I didn't even touch a dahlia, but I took a photograph of a rather lovely soft yellow, and I found a box in which to store the red-flowered tubers.
Be Very Careful What You Wish For...
I must be very careful what I wish for - an early frost so all the dahlias can be down without feeling guilty? That's totally daft. Some thoughts - shift the big floppy whites in together? What about the ones in the side house garden? They flowered beautifully lying on the dirt (oops) and seriously need large stakes. Why is it so hard to do this?
Floppy Single White Dahlia
Pro-active staking. Easy. So easy. Logical and sensible, when writing in my journal...
Wednesday 16th April
The heavy drizzle is back, and autumn is everywhere. The trees in the Pond Paddock are amazing to wake up in. The view from the cottage is golden, caramel, ginger - the same colour as Percy! The Birch leaves keep dancing slowly down, down, down. Even the Solomon's Seal is showing me some yellow. How pretty!
Autumn Pond View
Later, and Wetter...
Hmm... I've potted up some red Penstemon cuttings, Rusty the dog and I have been for a wet walk, I've done my piano practice (love Schumann), and I've sewed two pairs of stretchy pants for the grandbaby. It might be a good time to sort out my latest photographs. I love, love, love the autumn colours.
A Forever Capsule?
If I had to capture one week of garden time and store it in a forever capsule (?) I'd choose a week in mid-autumn. It might even be this week...
Oops. My sincere apologies to my dahlias. Yesterday other things took priority, and today the weather is totally unsuitable for rationalising anything. Just keep on flowering, feel free to flop without fear, and don't worry about the rain, you gorgeous things. Next week, maybe?