Dripping wet...
Clear-sighted goals, appropriate clothing, fortitude, and a well-laid plan for afterwards - all needed when gardening in the drizzle. It's not too cold, but the autumn garden is dripping wet and my gardening boots are already soaked.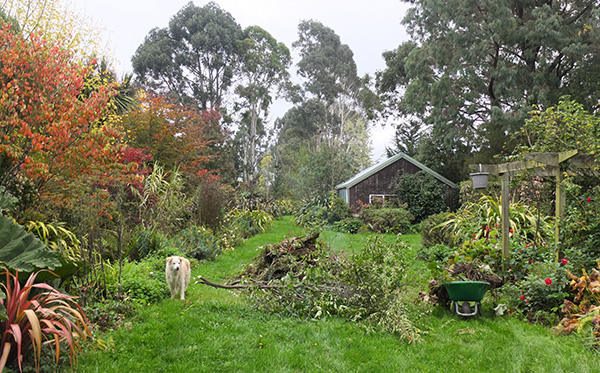 My Bonfire will not Burn
I am spending as much of today as possible in the garden. It's been raining/drizzling on and off all week. I plan to work in the garden on the back lawn. My rose order (end of season, half-price specials) has arrived, and I have seven beauties to plant. Thoughtfully, in absolutely the right places. No mistakes now! Lady of Megginch and the Wedgwood rose are going in the back lawn garden, after I've sorted it out.
Rusty the Dog
Right. Mud. Rain. Dog. Action.
Three Hours Later...
I've left all my muddy, wet clothes on the back doorstep. But no hot shower - this would be admitting defeat, and I plan to return to the garden. Just warm, dry, in-house socks, lovely! Bach's double violin concerto is tootling away, and I've made a hot cup of tea and some toast. Yum.
I've been busy lifting the autumn asters and aquilegias by the Pergola and carefully pulling out any nasty grass roots growing through them. The soil is rather wet, so it's been heavy digging. The plan now is to roughly replant everything, and keep an eye out for any new grass shoots.
I've also dug out lots of Alkanet - the bees love the pretty blue flowers, but it is a bit of a nuisance. And don't you bees worry - Alkanet is impossible to eradicate completely! I've also removed a piece of a dodgy perennial (lilac-pink autumn flowers, highly fragrant). I do not want ultra-invasive plants, no matter how pretty their perfume.
+5

+5I've had great gardening company from the animals. Rusty the dog has been steadfast (if a bit bored) all morning, and big Fluff-Fluff has been sitting in the wet dirt with me. What a legend! And he doesn't seem to get at all muddy.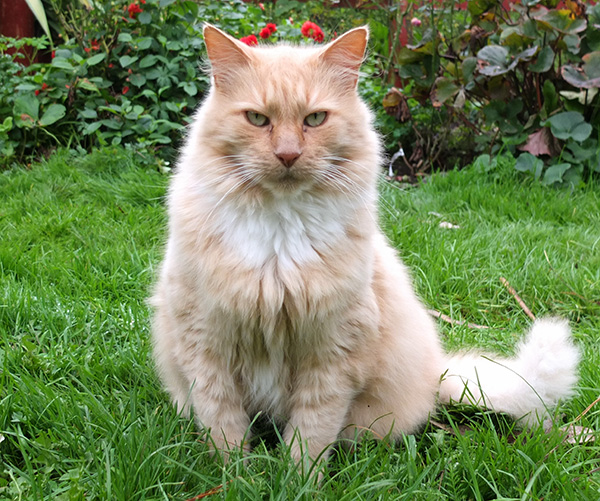 Fluff-Fluff the Gardening Cat
I found my other so-called ginger gardening cat (that's you, Percy) inside lolling on a crochet-lacy cushion. Mister Ornamental, obviously off-duty.
Wet Fuchsias
Right. Back on go my muddy trousers and shirt. Yuk! Another couple of hours work and then I'll try and get the bonfire going to finish my day. Some cheery photographs would be nice, too.
Three Slow Hours Later...
I didn't accomplish much, spending quite a bit of time poking fire starters and newspaper underneath the bonfire and chanting words of encouragement. No long term luck, though. Everything is just too wet.
Anyway, the back lawn's garden is 'sort-of' weeded, and I've replanted the Euphorbias, Aquilegias, and Daffodil bulbs. I've dug out a lot of the orange flowering Ligularias. I am no longer pathetically grateful for them self-seeding all over the place. That was the younger, more naive me.
Dahlias Reprieved
And I've decided not to dig up the dahlias just yet. Though very sprawly (no stakes, you understand), they are flowering brilliantly, whereas continual wet weather has spoiled many of the late rose flowers. For example, The Lady of Megginch's blooms have become stuck as soggy balls. How disappointing. Go you dahlias, I say!
Saturday 12th April
How odd. It's predicted to be raining/drizzling all weekend. The autumn weather has got stuck. Oh well. Anyway, real gardeners do garden in the drizzle. But not necessarily in persistent, noisy, edge-of rain drizzle. Sorry about that. I'm lucky - I can always do web-gardening instead.
Autumn Dahlias
My Original Teaset :

My teaset can be seen in the Apple Tree Garden Tour pages, complete with Fluff-Fluff the cat.
Something exciting has happened. Years ago I had a rather silly (and nice) child's teaset. The local Garden Club was visiting, so in an attempt to impress them (?) I put it outside on a garden table. I then forgot all about it, and the teapot cracked and broke in an early frost.
Unfortunately the teapot is, after all, the hub of a teaset. But finally I have found a replacement. Ooh goodie! Now I have to win the online auction, hee hee.