Wetness...
My April journal has become a weather chronicle. More rain fell overnight, more is forecast for today, and tomorrow, and Easter Saturday, and so on. One seriously wonders what one can do in all this wetness. Splash in puddles? Check the rain gauge (I do have one), if of a measuring bent?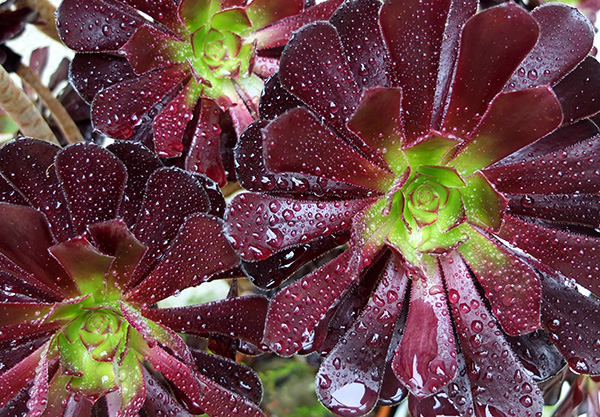 Wet Aeonium by the House
After lurking inside for a couple of wet days I become all fierce and intrepid and decide I'm going gardening anyway. So here's my wet-gardening list for today, Thursday 17th April. Too wet to go gardening? Never!
I'm going to plant some of my new roses.
I'm going to deconstruct the patio pot tomatoes.
I'm going to pot up seedling lettuces from my vegetable garden.
Look, I don't care how muddy all or parts of me get. Or how much water drips down the back of my neck (yuk). A hot water shower, a hot cup of tea, and the laundry tub should take care of everything.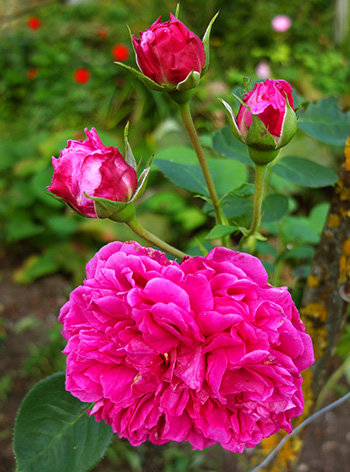 Lady of Megginch Rose
Mid-Afternoon...
Yes! I've just done an hour and a half of extremely wet-weather gardening, and I've finished my list. Actually, my dog looked in a worse state than I did at the end. I just got too cold, but Rusty looked positively miserable.
My second Lady of Megginch (her photograph was taken in early summer) and The Wedgewood Rose are both planted by the Pergola. One extremely large clump of red dahlias came out to make room. I collected a bucketful of red-skinned potatoes and weeded out some Lamium. I tried not to stomp too much on the soggy earth. My Trilliums are in here somewhere - it's far too early for them to sprout, but they can do without my heavy boots.
On the patio the lettuce seedlings (sweet little things) are planted, all the tomatoes are gone, and for now their pots are filled with strawberry runners. Now it can rain as much as it likes. I'm dry and warm, the log-burner is going (being enjoyed by four relaxing house cats), and the jug has just boiled for my cup of tea. Well done, me.
Friday 18th April
Hmm... The cottage was really noisy last night with the wind, loud splatters of rain, and ginger Percy kerthumping onto the window. I'm tired! It's continued to rain all day - 65mm in the rain gauge over the last 12 hours, which is roughly ten percent of our annual rainfall. No gardening today, and I didn't even go to the Easter Nursery Sale. I decided I'd spent quite enough money these last few weeks on roses, and Bambi teasets, and cat teapots...
Saturday 19th April
Quick! Camera! An amazing sight - blue sky! Sunshine! Tiger the Tortoiseshell is ecstatic, and is sunbathing on the patio steps.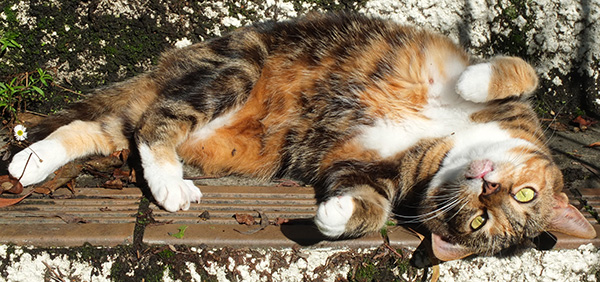 Tiger Cat Sunbathing
OK, garden, have you missed me? I'm just going to have a cup of coffee, and then - action! I'm not exactly sure where, but there is so much to do. I'm even going to put some sunblock on my face, hee hee.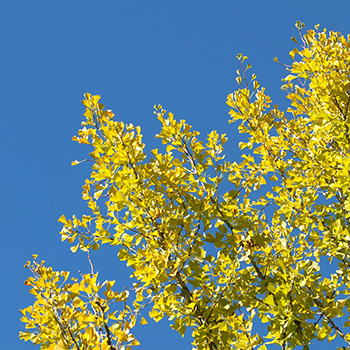 Blue Skies and Ginkgo Tree
Three Hours Later...
The Good : Non-Gardening Partner mowed some of the lawns, even though they were a bit wet. The Not So Good : 'There are a lot of weeds in your garden' he said, oh so cheerfully and helpfully. Humph.
And so I have been weeding. I dug up the remaining potato patch, weeded it, and raked the dirt etc. around. Then I weeded the garden in the corner of the Frisbee Lawn. A few months ago I spread bags and bags of rotted horse manure around these gardens. Legions of stinging nettles and other assorted weeds have now sprouted. This is a little disheartening, since I had such good intentions. But it is a joy to have a clear day, with no rain and no wind.
The Reward : My replacement Bambi Teaset has arrived in the post. Yippee!
Sunday 20th April
Today there is to be no drooping of spirits. What if I feel disheartened? I will stop, look around me, and check that my knees and my hands are still working. I see weeds? I will give thanks that even weeds will grow. Then I will work hard to make a small difference somewhere in my garden.
Bambi Teaset :

The original teaset looks exactly like the replacement!
When I come inside to have a cup of tea I'll peep at my new replacement Bambi Teaset and giggle. Nobody who has one Bambi teapot, two sugar bowls, two milk jugs, and ten little cups and saucers can possibly feel disheartened! Not to mention a beautiful autumn-wild garden, devoted cats, and a bored yet loyal dog. How very lucky caring dog-owners are. Dogs stay with you. When people get bored they often just wander off.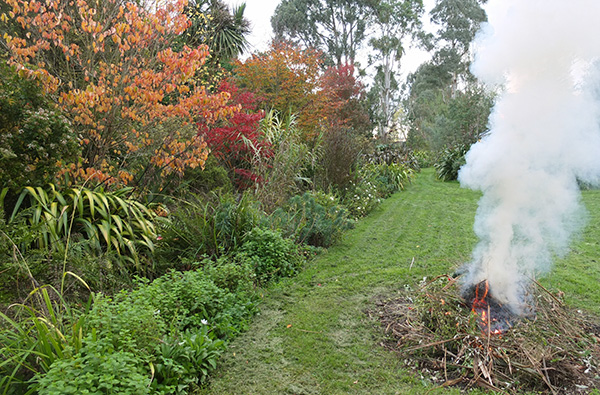 Late Autumn Bonfire
Self-motivational speech over, the practical gardening plan is rather lovely. Non-Gardening Partner and I are playing chamber music this morning, including a (new for us) movement of a Bach Brandenburg concerto. Then I'm going to start tidying up the sunny garden behind the pond. The new Belle Poitevine rugosa roses are going in here - I'll see them from the cottage.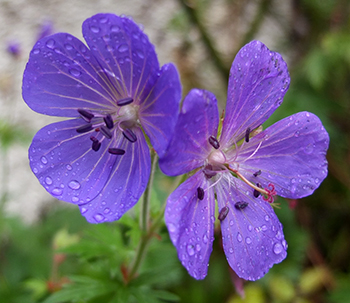 Blue Geranium
Later...
My gardening is over for the day - a sure and steady six hours. I've cleared the house patio garden, transplanted the Anemanthele grasses by the driveway fence-line, planted Canary Bird and Mme Pierre Oger plus lots of daffodil bulbs nearby, potted up most of the tulip bulbs, unwound the Wisteria from the Green Goddess Cordyline on the patio, weeded, swept and collected more dry leaves for the bonfire, tidied the garden behind the pond like I said I would... Better pause for breath! Then I burnt the bonfire. The end-of-autumn bonfire? Who knows...
And I've thought of something else that is totally uplifting. Not only do I know that 'Jerez' by Albeniz is the most beautiful piano piece in the whole musical world, but I can play it, slightly slowly, getting 85% of the notes in the right place at the right time. That's not bad for an older-lady gardener with arthritic fingers and dirty fingernails.
And a final comment about my replacement Bambi teaset. Apparently there are people who collect Bambi paraphernalia. Retro Bambi ornaments etc. are highly sought after. So there! I am not alone.