Puppy photographs...
Winnie the Puppy
Puppy photographs : whenever the puppy looks amazingly cute - for example, she's gambolling in the blue forget-me-nots, or chewing the pansies - I don't have my camera. When I do have my camera she will not pose near anything remotely garden-connected. When I bend low to take a cute close-up she bites my swinging plait. Fair enough!
Tuesday 30th September
Aha! Another slow gardening-with-puppy day. The wheelbarrow doesn't get very far when Winnie the new puppy is around - she yaps at the wheel then stands right in front of it. Obviously I am too much of a softie to gently run her over. She's a strong little puppy - this morning she managed to drag the outdoor broom into the house.
So what have I done? Planted three roses in the Allotment Garden, finished the lavender planting in Winnie's small garden, watered things, raked up mess, and fallen asleep lying on the grass in the afternoon sunshine. When I woke up the dear puppy was stretched out alongside me. Awwwwwwww. So cute!
Two Dog Motels
The gardens around the two dog motels are finished now, and look really nice and tidy. I've redesigned the path to accommodate both, and it just needs a cover of mulch. A very laid-back spotty breasted thrush has been poking around in the newly dug dirt. I'm sorry, bird, but this soil is not at all wormy. Impoverished would be the best way to describe it. But the thrush keeps on reappearing - he/she knows something that I don't?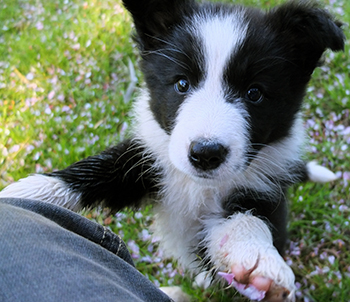 Hello Winnie
Wednesday 1st October
This morning my under-gardener friend and I filled in the last of the big holes on the Welcome Garden boundary, and smoothed down the slope. It's now ready for mulching and shrub planting. We are extremely proud of our collective selves.
Earlier Winnie the puppy was 'helping' me. Hmm. It certainly encourages random gardening. One handful of weeds and she's right there to play with the hands and/or the weeds, one spadeful dug and she's there to fight the spade. Then Rusty will bark madly at a plane flying overhead, and she'll scamper back towards the house. Since she's so small and new here I trot off after her to check she doesn't get lost. So my gardening is all over the place.
The official daytime sleep is taken in her outdoors kennel. She likes the tiny space underneath the Adirondack seat, too - it's shaded from the sun and I often sit down above her. My new best puppy friend! I've made some more attempts at puppy-photography - see what you think.
Winnie the Puppy by the Adirondack Seat
In my garden - mustn't forget there is a garden out there - the blossom wave in the Driveway Garden continues. The big cherry tree on the lawn is finished, the weeping pink by the drive is midway, and the other weeper, with fat white blossom, is starting. Blossom is so beautiful.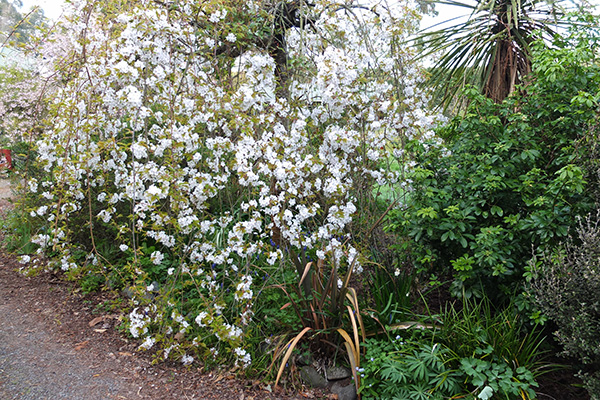 Weeping Cherry in Driveway
The weeping Silver Pear tree I shifted into the Glass-House Garden seems to be happy and has started to flower. Just along the border is a little Crab-Apple called, I think, 'Barbara'. Both these trees are small, terribly demure, and very ornamental.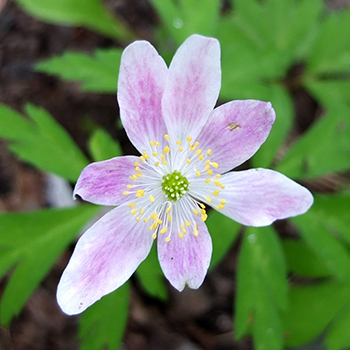 Sweet Little Flower
It's been wonderfully warm these last few days, and some of the forget-me-nots are starting to look jaded. My goodness, that was quick! A succession of sunny warm days without intervening rain and they wilt. Winnie rather likes chewing flowers.
Garden Puzzle
I've found a little flower in a border near the pond, never seen before, which I now present for identification. I'm not sure when I planted it, either, or where it came from - it's a lovely little garden puzzle.
Just for my records, the roses I've just planted in the Allotment Garden today were rescued last summer from the orchard's spraying regime, and are two of the following : Golden Showers, Zephirine Drouhin, or Baroness Rothschild. I'll have a better idea when they flower. If they flower? No, be positive. WHEN they flower!
Improving?
Improving? Yes! Actually, I think my puppy photography is definitely improving.
Puppy Winnie eats Flowers!