Silly...
Sometimes some gardeners (me) show a total lack of common sense. Like mad dogs and Englishmen, silly gardeners tend to go out in the mid-day sun, just to end up pink-faced, hot and bothered.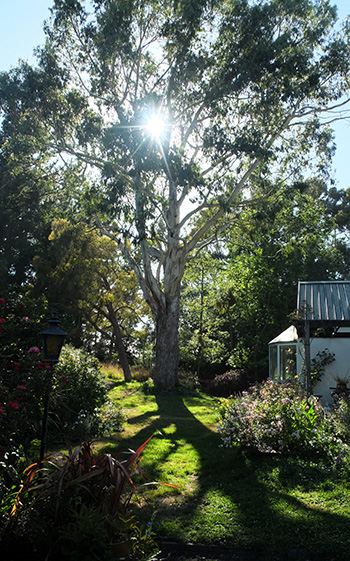 Sun Through the Gum Tree
And I've been very silly of late, stubbornly determined to be sun-gardening. Then I get terribly cross with the heat, and end up drooping on the TV couch in a sulky slump...
Sunday 25th January
OK. Common sense now. I've worked out how to beat the heat and have a busy mid-summer gardening day. It is really, really simple. Most things with respect to the garden are - I knew that!
Today I've already been in the garden for five hours, and I'm not hot and bothered. I am inside, refreshed, taking a break - enjoying a polite cup of tea while watching the end of New Zealand's innings in the cricket. Ah, the cricket! I think we will win yet another match!
Shade and Water...
Lathered up with sunscreen, wearing hat, sunnies, and long sleeved shirt, I've followed just two rules. I've confined myself to working in the shade, and I've carried my water bottle in the wheelbarrow. Easy, really. Large areas of my garden are tree-shady, so it's been easy to find suitable places to work in.
First I cleared the paths behind Pond Cottage. The large gum trees give brilliant shade in here, but they also shed huge strips of bark. I did a quick clean out of the little pond, and went up to the water race to check on the river pumps. Interesting - someone upstream had been dumping flaxes in the water, jamming my pumps. The flaxes were quickly recycled and planed along the boundary (oops - that was in full sun, but it only took ten minutes).
Wedding Day Rose :

Wedding Day is a rampant scrambler which flowers only once, in summer.
Then I weeded the garden at the shady end of the Driveway. The rambling rose-monster Wedding Day (a moderately ghastly rose, in my opinion, and definitely not at all romantic) grows here, and I'd always planned to chop it down after flowering. This took ages, but finally the mess of canes was down and dumped. What a job! A bit like a prickly divorce, methinks...
I drank lots of water, and felt really full of positive energy all day. And we were doing really, really well in the cricket - an added bonus. When the sun went down I trimmed the edges around the back lawn and the Herb Spiral's garden. This is a pretty area, with my concrete cricketers playing on the grass, and Clary sage sprouting out of the top of the spiral. Brushing past the pungent sage flowers one ends up smelling of cat pee. Oops. Have to remember to change clothes before hugging anyone.
The Herb Spiral
Next to the Herb Spiral, in my not-a-vegetable-garden-anymore, the leeks are flowering. Ornamental Alliums are not very successful in my late spring garden, but these summer leeks gone to seed look absolutely beautiful. And the bees love them. Such a brilliant day, all because of shade and water. So simple.
Tuesday January 27th
Today I'm continuing my shade gardening, deep in the back of the Shrubbery. I'm taking the new kittens with me - they'll like it in here, with so many trees to climb.
Side Garden by the Shrubbery
It's much later, and I've been pretty good, really - five hours, with constant kitten company. I've trimmed the periwinkle, I've weeded, I've strengthened the rose arch that Madame Leonie de Viennot sprawls over, and made her path passable.
Pink Lilies
Speed Weeding
Then I speed-weeded the house garden and planted a pot of striped Cannas which had been sitting forgotten since spring. The pink lilies are gorgeous in here, easy to make a song and dance about their huge, healthy flowers. The rose Mutabilis behind them is known for its sporadic flowering through summer, and the self-sown annuals underneath are whimsical, tending to the insignificant. Oh well, we can't all be big and blousy. This applies to gardeners as well as roses!
Memo to self : investigate how and when to take cuttings from Madame Leonie de Viennot. She is a pushy flopper of a rose, and a couple of her clones would enjoy sprawling down the rope swags in the Allotment Garden.
Instant Rose Research Report
Ha! Apparently one can insert rose cuttings in potatoes (I watched a Youtube video). This appeals to me because a) I never knew about it and b) I have many spare potatoes. I'm going to try some rusosas as well as the Madame. Trouble is, it's not quite yet autumn. But Madame Leonie is once-flowering, and many of the rugosas now have hips.
Madame Leonie de Viennot
The funniest thing about today has been Winnie the doglet's absence. She's at the vet being spayed. Rusty has been a complete lazy-bones dog, not taking the slightest notice of what I've been doing. I've missed my nosy, diggy, please-throw-the-frisbee puppy. I'm off to pick her up now.