Yet another new rule?
Shepherds Purse on Shovel
I have a new rule. Yes, another one. Every morning when I get the dogs up I have to pull out one hundred shepherd's purse weeds. I have to keep count - and keep an eye out in case a dog's body charges past and knocks me over.
Friday 18th September
This morning I spied a wee mini-forest underneath the deciduous Azaleas, so pretty with their little starry white flowers. I pulled out one hundred. Stayed on my feet, thanks to Winnie's expert weaving. When we get back from the dog park I will attempt (ha ha) to finish this tiny patch. Every little helps. It does! Please say that it does!
I've had a thought. I used to call these little darlings my 'October weeds'. So there I was in October thinking I was in full control of things, pulling them all out. Well, obviously I was a month late, and this may explain why I always have so many in so many different places. The old weed before they seed trick.
Mid-Afternoon...
OK. I've been weeding for most of the day. So far that's five hours worth, at, say, an average of fifteen weeds a minute. Doing the maths - that makes 5 x 60 x 15 = 4500. Four thousand five hundred weeds! Aargh!
Dogs in the Driveway
It's beautifully sunny outside, and there are some new flowering things to celebrate. The pink blossom trees down the driveway, the little blue muscari, the yellow Forsythia shrub, more and more violets, the starry white Eriostemon shrub. A large red rhododendron in the Driveway Garden, very sparse of branches, has two fat flower-heads. And still more daffodils are popping into flower.
Just for fun, before I return to the garden, I've googled 'Shepherd's Purse weed control'. So funny, really. Allow me to quote from a famous university : 'In flower and vegetable gardens, shepherd's purse can be controlled by hoeing or hand weeding the young plants'. So true, hee hee. Actually, there is more, concerning the use of science and post-emergent herbicides, but alas, that's not for me.
And Much Later Still...
I did another couple of hours, pulling weeds out of the Allotment Gardens, and then slicing weed carpet from the edge of the Agapanthus Garden in the corner of the Frisbee Lawn corner. Then a soak in a bath, Chinese takeaways, a cider, and a pill (just a tiny one, for the aching hips). Apres-gardening life is pretty simple.
Saturday 19th September
This morning I am inspired. Must be the cider? Before going swimming I'm going to do some lie-down weeding (one lies prone, and rams a spade sideways). Walking the dogs at first light I pulled out another hundred shepherd's purses. The reader must be finding this rather boring, as if it's all I do. I mean - who counts their weeds?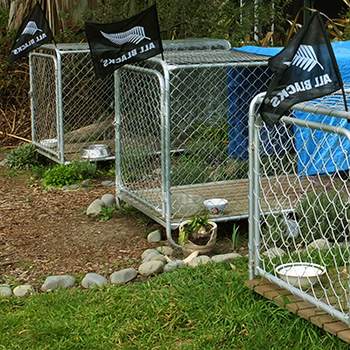 The Dog Kennels
Much Later...
Aargh! Eek! I reckon I have found the weediest patch of weeds ever known to a gardening woman. After a quick visit to the dog park I left Escher in the mobile dog kennel (the car), parked it by the Agapanthus Garden, and started scraping, pulling, and digging. The weed growth is extraordinarily lush, and I'm afraid the forget-me-not seedlings just cannot be saved. This is extreme weeding!
Go The All Blacks...
By the way, the World Cup has started. What World Cup, do you ask? Shame on you! The Rugby one. The dogs have their supporters 'All Blacks' flags on their kennels, and I've attached mine to the back window of the Moosey car.
I've just done another spring round with the camera - more Camellias are flowering. So pretty, the later pinks and the cool whites behind the Stables. Now I'm zooming off to a Madrigals Practice. And there's a fruity cider in the fridge for later. What a lucky life I lead. Now all I need is the All Blacks to win all their rugby games...