Hello, old friend...
This morning - a couple of minutes of pure magic. The sun! Hello, old friend! Yeay for the sun, I shouted. Alas, I scared it away. It's been drizzly and gloomy for some days, but not cold - lovely winter gardening weather if one doesn't mind muddy knees.
The Shrubbery in Winter
Sun aside, my winter garden clean up is going really, really well. Yesterday I tidied up the Shrubbery. I trimmed dead leaves off Astelias, downsized the yellow and green variegated Corokias, cut down dahlias, scooped up leaves and gum tree mess. Found some roses to prune. Stopped counting the number of wheelbarrow loads.
Pebbles in the Sun
Then I moved onto the top of the Island Bed. Phormiums, Hydrangeas, ornamental Miscanthus grasses all got the chop. Such a lot of mess. Wasn't I good? I asked myself, water dripping off my fringe. I lasted for nearly five soggy hours.
Tuesday 23rd July
Aha! More sun! Today, I spent four more hours in the Allotment Gardens. First, some serious rose pruning, then some equally serious weeding. Three roses dug out and shifted into the sunny Hump Garden - Cornelia, an unknown old-fashioned cream fluffy one, and a sad red with one spindly stalk (either Intrigue or Opulence). The salvia uligosas almost cut down, and lots more weeds pulled out. Oh my - what a lot of wet mess! And the muddiest and wettest of knees.
Thinking...
Inside, the spreading perennial Salvia uligosa started me thinking about several 'invasive' plants that grow in my garden. It may be time in my gardening life to embrace them rather than scratch around every couple of years trying to control and/or eradicate. One, a joyous orange Alstroemeria, has colonised the Island Bed, while another, a yellow flowered Lamium, pops up here and there - especially in The Hump.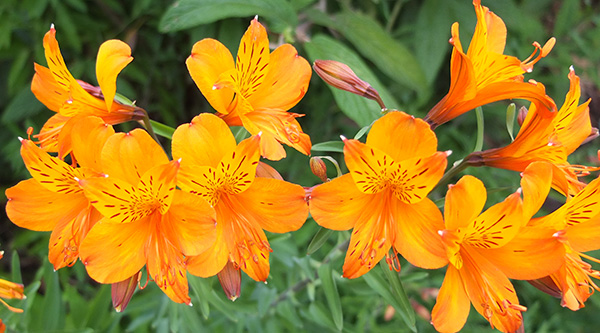 Dodgy Orange Alstroemeria
Time to give up and give in, gracefully accepting their pleasant if vigorous contributions to my garden. Let sleeping ground covers lie, that sort of thing. I've already welcomed blue Periwinkle into the Shrubbery. Pretty flowers. Plants itself, less work for me.
Wednesday 24th July
Today I've been working hard again. I had breakfast in my muddy-knees jeans, my head busy with A Night In Tunisia (am thinking of arranging it for my jazz choir). The main melody has very sneaky intervals, which Ella Fitzgerald makes sound so easy.
Tinsie Camellias
I did more trimming in the Allotment Garden, rescued another sad rose, pruned the pink rose Bonica (for the very first time). I did much grubby weeding, my gloved hands taking the place of (oops) my mislaid diggers and scrapers. So wet, so muddy, and my knees got so cold. But guess what? The sun was shining! Hello again, sun. Thank you for being my gardening friend this afternoon.