Too many, too close, too big...
Phormiums Along the Water Race
My planting schemes : too many, too close, too big. I don't notice anything's wrong for ages and ages. Then, suddenly it is all too obvious. Ooops. So I have spent two hard-working days cutting down two very large Phormiums. Both are planted at the very back of the Birthday Rose Garden, on the bank above the water race.
Too big and too ugly...
Both are far too big and ugly for my high standards of garden border texture, hee hee. And they take up far too much room. Actually, they are both species tenax flaxes, industrial strength plants, decidedly un-ornamental. But they will re-sprout and in six months time fresh small spikes will fill their spaces.
Flax leaves are incredibly tough - plaits of flax can make a very strong rope ladder. A serrated kitchen bread knife has done the business for me, but I have a finger blister for my troubles. It's on my 'fat finger' (the arthritic one), which is now decidedly fatter. But not really sore. Oops. One shouldn't really take a pill just for a fat finger...
Phormium Base
Last winter my friend gave me a trailer load of dahlias. They are amazing - so joyously colourful, flowering in the Hump with roses, annuals and perennials. A mass of massed dahlias, all huddled together propping each other up. I am most impressed, particularly because they were gifted to me.
Red Dahlias
Did I use the words 'huddled together'? Another way of describing their planting would be 'too close'. Planted far too closely together, squashing the roses, overwhelming dearly departed Tiger the cat's resting place, spilling out and over paths. Hmm...
And now, two further problems : one is 'too many', the other is 'too big'. Same location. The Herb Spiral has disappeared in a scruff of Rosemary branches. The idea was a good one - Rosemary trailing out from the very top. But then I went and planted three plants in there, didn't I. Hopeless. One would have done. And I really didn't notice the Rosemaries getting woody and over-sized, honestly.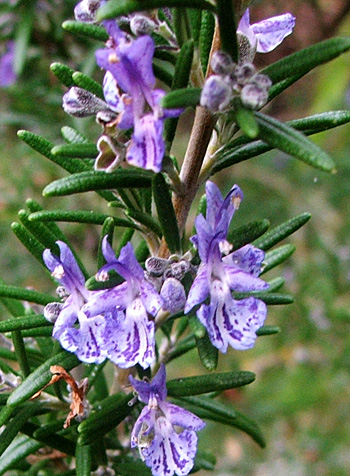 WInter Rosemary Flowers
Too big...
I also planted a Spiraea shrub in a lower side compartment. OK. I know that a Spiraea isn't a herb, but its label said 'dwarf'. This is incorrect. It is far too big, and now blocks the circular path around the spiral.
So as soon as I've had my morning coffee I'm off to cut all these excessively large shrubs down to their ankles. If they live to resprout, so be it. If not, well at least I'll be able to see my haphazard brick mortaring. And have some space for parsley, which hates being in its patio pot. The Rosemary had finished flowering anyway, so my bees won't miss out.
A good thought...
Thought : At the nursery for which I have a voucher (two hundred dollars left on it to spend, yippee) I saw some lighter, almost golden-leafed Rosemary. Golden-needled? I liked them! I'll buy just one - JUST ONE - to replant the top level of the spiral.
Then Sod's Law will no doubt kick in, and the new Rosemary's growth will be mean, measly, tiddly and all the adjectives I use for 'too small', hee hee.
O.K. Stand by for a before and after photograph. Non-Gardening Partner gave me a new camera for Christmas.
Trimming the Herb Spiral Shrubs
Much Later...
Done. I've also collected and dumped two barrow loads of mess, mainly rose dead-heads and Delphinium trimmings from the nearby gardens. And now I remember - it's almost the very last day of the gardening decade. It's been a great one. Dear garden, thank you for the joy you've brought me over these last years.