Best friends
Good morning to my summer garden. I want you know that I love you very much. It could be said that you are my best friend. We spend time together so happily. We are well suited, you and I - both a bit wild and romantic. Sometimes we see too much of each other. Sometimes we ignore each other for days. But we are always together in spirit. Just like best friends, hee hee...
Walking down to the back paddock
Sympatico! My piano tuner has been and gone, just when I've reignited my piano playing mode. Which has to fit in with my gardening mode, writing mode, dog (and cat) walking mode, singing mode, socialising mode, and so on.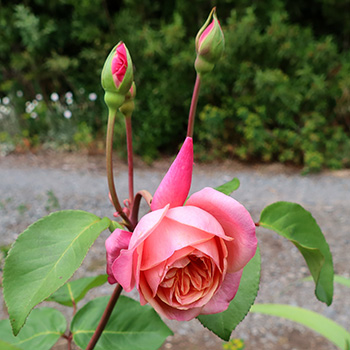 Archduke Joseph Rose
Beautiful rose
It's been another hot day, but pleasant - 25 degrees Celcius and 45% humidity at 5pm, according to my piano tuner. I've done another stretch of weeding in the water race, thrown sticks for the dogs, and put the watering hoses on the Allotment Garden, where the most beautiful rose - Archduc Joseph - is flowering now. The roses in here have a hard life in the summer heat, relying on my hoses and water buckets.
Wednesday 16th December
Today I have specific plans, which I will now detail below. I will use bold for emphasis.
Clean up the Jelly Bean Border : The idea is to pull out all the old forget-me-nots, lay down some horse manure, then replace forget-me-nots between the Azaleas as mulch. Check the re-sprouting Viburnums (these shrubs are super-suckers) and decide which ones are OK.
Clean up the Rest of the Pond Paddock Gardens : again, pulling out forget-me-nots for mulch is the idea. Also planting things, weeding and trimming things. Lopping down dead branches from the pink rhododendron. Oops. Maybe chop it down. A shrub that dies slowly doesn't fill me with gardening confidence.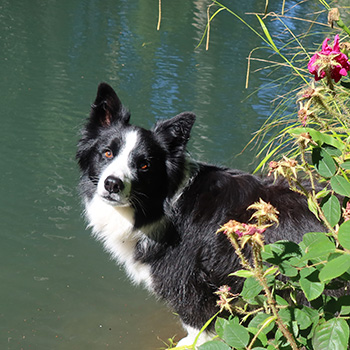 Winnie by the Pond
Perfect plans...
That's it, really. Working in the shady gardens, near the pond, perfect plans for summer gardening with dogs.
Except I haven't started quite yet. Oops. Have been trying out my newly tuned piano, enjoying its thrilling, ringing, tuneful tones. Have made an astounding discovery- Hindemith's piano sonata (even at half speed) sounds so much better on a tuned piano! Well, well, well. Meanwhile a mechanic is outside servicing Non-Gardening Partner's tractor, supervised by Winnie and her tennis ball. She kept the piano tuner company yesterday, popping her saliva-covered ball onto the keyboard and woofing gently. The joy of sociable dogs!
Later...
I modified my plan, because I went into town to a lunchtime organ recital (as one does). On my return I planted up the newest Pond Paddock garden with spare Carexes, bulbs, and daisies. Then I poked a watering hose into one of the overhead trees and left everything to grow.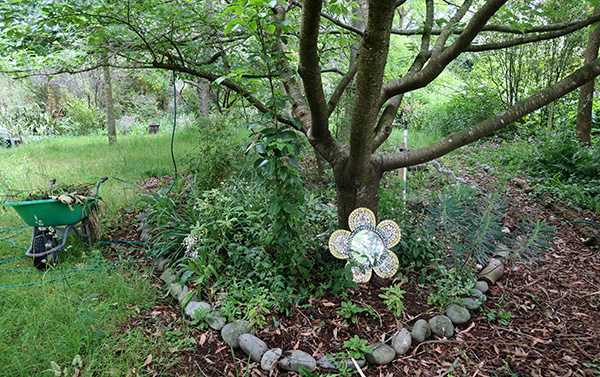 New Pond Paddock Garden
Told my dogs not to worry - they, too, are my best friends, and so are the Fred cats, and beautiful black Buster, and Minimus. Share the love and share the garden. Just don't dig up my new daisies (the yellow Paris daisies, tough as tough), or squash the Bergenias please.