Pets Football World Cup 2022 Sweepstake
The Football World Cup has come around again, and the Moosey cats and dogs are excited about the house sweepstake. Yes, they jolly well are! This year some guest cats and dogs are taking part - Escher and Frida (two brown dogs) and Earl (a grey cat) from New Brighton, plus Alba (a Devon Rex) from Papanui.
2022 Football World Cup Cats and Dogs
The winning prize is a tasty treat of that pet's personal choice. The Moosey resident cats have two teams each, Winnie and Pebbles the resident dogs just one each, and the remaining teams have been allocated to specially invited guests.
Participants in the 2022 World Cup Sweepstake
Above you'll see the list of teams and pets, and below their happy smiling faces. May the best four-legged friend win! Watch this page for continuous updates.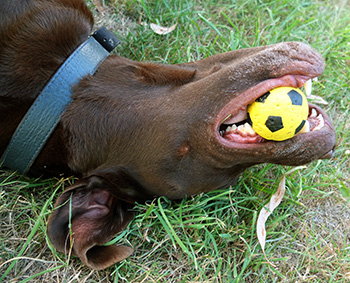 Dog with Ball
First Update
Oh dear. Big brown Escher has already been knocked out. Sorry about that, dear dog. Last time (in 2018) he had England and got to the semi-finals. Meanwhile Frida his house dog-sister lives on (she's only got one team, but it's France, one of the favourites).
Go Black Buster!
Both Buster the black cat's teams (Netherlands and England) won their first round matches and are through to the next stage. Yeay for Buster! You go, girl.
Second Update
Oh no! Both Border Collies (Winnie and Pebbles) eliminated today, as Japan and South Korea are both bundled out. Sorry about that, darling dogs.
So looking now to the round of eight : it's cats all the way, with just Frida the brown spotty GSP left to fly the canine flag.
Quarter Finals - Football World Cup 2022
And on to the final... it's cat versus dog. Good luck, Black Fred and Frida the spotty brown GSP.

Cat Versus Dog - 2022 Football World Cup Final