The week before Christmas continued...
So what to do first today? Do some piano practice or go gardening? Choices, choices...
The Back Lawn
Ha! I foiled myself. I went swimming. But on my return I did heaps of the other two. Played two Bach piano and violin sonatas for an hour, then did three hours of drag-my-bottom gardening. Trimmed edges and weeded around the house gardens. Pulled out lots of Cleavers (thanks, birds). Dead-headed some big Euphorbias and some roses. Pulled lots of dandelions out of the lawn.
Friday 23rd December
So what to do first today? Do some piano practice or go gardening? Aha! Not a mistaken copy and paste from yesterday, just evidence of how settled my pre-Christmas life has become.
Red Roses by the House
Hee hee. Foiled myself again. Went off in my car to the country library to get some holiday reading. I love a bag full of real books. Then I did an hour on the Bach pieces, and am about to clean up yesterday's garden mess.
Much later...
Raked up two barrow loads of mess, then went on a bottom-dragging trail through the garden by the woodshed. The purpose was to dig out old Campion and knock the tops off old Alkanet, keep my head down, and see how far I'd get. Did a fairly wiggly sine curve, ending up in front of the woodshed by the Banksia lutea. Knocked the shoots off the ever-rampant (and hopeful) Kiwi fruit vine. Heaps of fun.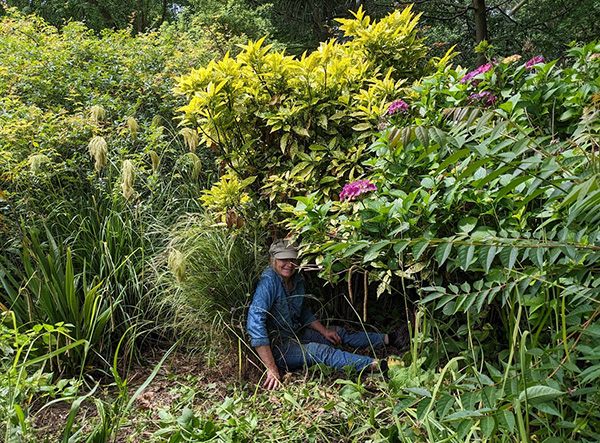 Spot the Gardener
Interesting scooping up armfuls of mess and wobbling back through the garden towards the wheelbarrow, trying not to step on the hostas or the other ornamentals. Have left the Variegated Elm tree suckers for tomorrow.
Saturday - Christmas Eve
Have been for a swim and put more fingering into my Bach pieces. The theory is that if my fingering is consistent and sensible, then I waon't feel so scrambled mentally when I sight-read it. Now to sort out those suckers.
Fuchsia in a Pot
Five hours later...
Yes, have just finished five hours pulling out more and more Campion and Alkanet, dragging self around on my bottom, trimming and digging and cutting suckers, being an absolute legend. The whole interior of the garden underneath the variegated Elm Tree is cleared, and yeay! There is room for new plants. But not roses - am not allowed to buy any new roses.
Usually about now I have to prepare mentally for driving into the city and singing - Christmas Carols, and/or Midnight Mass. But not this year - I am staying home, and this makes me very happy. The plan is to cook an easy meal (ham steaks and our own spuds) and then go on a Youtube train somewhere. Great excitement for the legend of Christmas Eve Gardening. Joy to the gardening world.