Merry Christmas 2022
Merry Christmas to me, my garden, and my cats and my dogs. And my friends and family.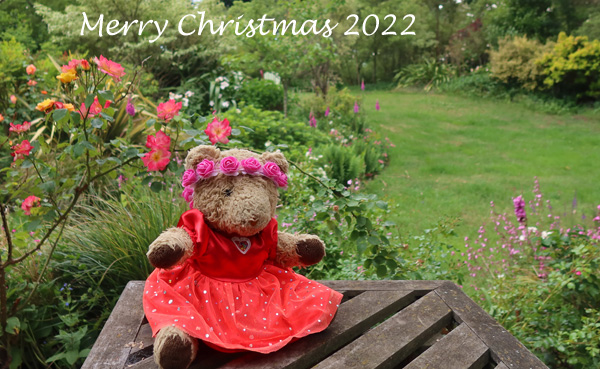 Merry Christmas December 2022 From All of Us
And to Non-Gardening Partner, who is trying to avoid playing Christmas Bach on his violin by reading scientific journals. There's also a whole lot of Christmas lawn mowing to do...
Speckles the Stray
Have already spent a whole hour sitting with Speckles the stray cat on the cottage verandah. He's bunted me, he's rubbed his face along my arms, he's licked my hands.
Super-smoochy
Super-smoochy Speckles. What sort of silly cat-obsessed person spends so much time with a feral cat? Me.
So Speckles has come every morning for breakfast this week. And when his tummy is full he's taken to snoozing in the cat basket on the verandah, or on one of Minimus's cane chairs. This morning he almost purred (sounded more like a gurgle). And to think I had declared him officially dead only ten days ago. Again, silly, silly me.
So the weather is warm and sunny, and I am about to do some Christmas weeding. And guess what? My garden is much less weedy than it was a week ago. I have been a weeding legend these last days. I have done sooooo well. Wouldn't a weed-free garden be an amazing thing. Totally unreal, of course...
Non-Gardening Partner with Fred
Mid-afternoon...
Oh boy! Have spent three hours doing rather heavy-duty weeding in the lower reaches of the Hump Garden. Have pulled out lots and lots of tall dandelions (which means they're something else) on stalks.
Mustn't ever forget...
Have scraped and dug out lots of Campion and Alkanet. Mustn't ever forget how much the bees love these two nuisances in spring. Found some daylilies flowering which I'd shifted into the Hump garden and then totally forgotten about.
Christmas Baching...
And some music news. NGP has fixed his music stand so it no longer flops around like something out of Harry Potter. It is ready in position, next to the piano. Let the Christmas Baching begin! Not you, dogs...
Dogs Day Out Tomorrow...
And further good news - I've cleaned up all the mess which was lying on the lawns. This means that Christmas lawn mowing can happen. If the lawns look good then my garden looks good. And tomorrow is the Annual Dogs Day Out. The brown dogs visit, and we all race around the garden and leap into the water race and scare the pants off the cats. Such fun!