Questions...
Talking to myself again. Asking some very important questions, actually.
Two Late Flowering Rhododendrons
Q. So what did you do in the garden today?
A. I took some more rose photographs, and found two silly rhododendrons flowering super-late. See above.
Q. But what did you actually dooooooooo in the garden? To put it another way, what gardening did you do?
A. Well, when I was photographing The Pilgrim rose I saw some Cleavers weeds. So I pulled that out.
Q. Is that all you did?
A. Oh no. I trimmed the long grass in front of the dog kennels.
Q. And?
A. Well, then I took the dogs for a walk. And I put new cushions on the white cane chairs on the cottage verandah. And I said hello to Minimus.
Q. So you've done an absolutely minimal amount of gardening, right?A. Well, yes, but I'd already drunk three cups of coffee. And resigned from one of my choirs.
Q. Isn't that a pretty poor show?
A. Maybe, but it had been raining. So my feet were very cold and wet walking over the watery lawns. By the way, aren't these rose pictures pretty?
Next day...
I am sooooooo lucky. My hand tools - digger, scraper, secateurs, scissors, gloves - were totally lost, and Non-Gardening Partner was about to mow all the house lawns. A recipe for a garden disaster - the mower would 'find' my tools in the long grass and break its shear pins (this has happened before).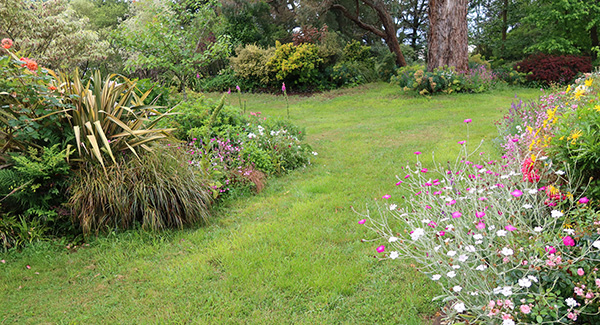 The Lawns Are Mowed
Spent half an hour plodding around peering here and there - no sign. Decided I must have dumped them on the fence-line with a load of mess. Yes, that's where they were. Phew! I could relax. Silly me...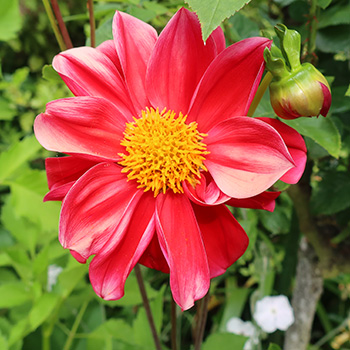 First Dahlia of Summer
Oops...
Grabbed the breadknife from the kitchen (oops) to finish removing the Periwinkle from the house lawn by the Shrubbery. Took two loads to the dumping place, and sifted through everything thoroughly. Oops. No sign of my tools. Maybe best not to relax...
Aargh!
Aargh! Just as the ride-on lawn mower trundled around the corner of the Island Bed I spied my red lady's spade in the grass underneath the flowering cherry. Aargh! And right next to it were my missing tools. Nonchalantly I waved the mower to a halt and flamboyantly rescued Winnie's tennis ball and moved the watering hose out of the way. More subtly I scooped up digger, scraper, secateurs, scissors, hammer (?), and garden gloves. Hammer? That would have made a right mess of the lawn mower blades...
Time doesn't balance properly...
Then it turned into another one of those 'time doesn't balance properly' days. It took me three hours to clean up the lawn and its edges. Periwinkle loves growing out in the open sunshine in a lawn. And when I'd finished, the mower trundled over it in three minutes.