Garden Awards - The Best of 2009
This isn't going to be one of those politically correct awards lists where everyone gets a prize, a certificate, or a mention. I'm toughening up, and there will be disappointments. The awards for the Best of the Moosey Gardening Year for 2009 are as follows. Enjoy!
Best Gardening Cat 2009
The Best Gardening Cat Award for 2009 goes to my big pale ginger boy, Fluff-Fluff. Fluff-Fluff is always with me in the garden, showing superb concentration and stamina. He is also extremely ornamental and photogenic. For a large cat FF is agile and light on his feet - and he gets 'big air' when he leaps over the water race.
Best Cat 2009 - Fluff-Fluff
You other cats - try harder next year to bring your A-game to the garden, and remember that gardening is done outdoors. I'm sorry, Tiger the tortoiseshell, but in order to be the Best Gardening Cat you need to actually leave the house. Stop trying to bust into the pantry and start following the Head Gardener outside.
Best Gardening Dog 2009
This award should go to Rusty the red Border Collie, who always gets this award by default, being the only dog. But during 2009 Rusty spent more time lurking in the kitchen than pottering in the borders. So in the spirit of toughness and competitive fair play, The Head Gardener regrets that no award will be given. 'What a meanie.' thinks Rusty, 'No award, and she won't even give me her toast crusts...'
Best Dog 2009 - Rusty
Amendment to Best Gardening Dog Award
Oops. I don't like being thought of as a meanie. OK, Rusty the dog, you can get the Best Dog Award. But next time I need you to keep me company, try and forget the toaster. And the cat bowls half-full of dried cat food. And the tantalising smells from the roasting dish...
Best Garden Buy 2009
Well... I did buy rather a lot of new things for the garden, thanks to my happy discovery of online auctions. I gaily bid for peonies, garden benches, monster cordylines, roses, and various garden gnomes. But the best buy is none of these.
Best Buy 2009 - Cane Table and Chairs
Ha! This award goes to my ten dollar cane glass-topped table and stylish chairs, sturdy and well-weathered, which seats six on the upper patio and makes alfresco dining a real treat. Ten dollars!
Best Idea 2009 - Agapanthus
Best Garden Idea 2009
Hee hee... Planting Agaves by the water tank? Expanding the Shrubbery with old fashioned roses? Or digging out carloads of free Agapanthus plants to fill up the difficult garden areas by the fence?
This year's award goes to the functional - those Agapanthus darlings. They look great in their mass plantings, and seem to be surviving my lack of watering.
And, apart from me having to dig them out and transport them across town, they were free. Of course, it's been a great excuse to vacuum the inside of my car...
Best Rose 2009
Hmm... Even producing a shortlist of the best roses of 2009 will be difficult. For example, William Shakespeare and the other David Austins are extremely worthy contenders this year, but make predictable winners. The climbers and ramblers in the orchard have been spectacularly beautiful - but then I expect them to be. The recipient of this award has to be chosen with the heart rather than the head...
Best Rose 2009 - Corylus
Ha! This award goes to the hybrid rugosa Corylus, which lives and flowers in the Shrubbery. This rose has a special place in my heart - I loved it when I visited Peter Beales' rose nursery in Norfolk many years ago. Now I have two of my own Corylus shrubs, and every time I see them I go happily reminiscing...
Best Garden Gnome 2009 - Laurie
Best Garden Gnome 2009
Readers may consider this an oxymoron. But the Moosey Garden is proud to be the home of seven Disney garden gnomes as well as an assortment of others, including some delightful retro concrete chaps. The oldest gnome has been with me from my pre-gardening years.
The Best Garden Gnome Award goes to my most recent gnome - Laurie the book-reading gnome. He's got little mice scurrying around his feet, and is wearing the most stylish buckled shoes imagineable - though they're not really suitable for gardening.
Laurie sits in some dwarf Agapanthus at the back of the Moosey pond, surrounded by roses as red as his hat. He's actually quite old, underneath those newly painted clothes...
Best Garden Experience 2009
Eek! How to choose? I asked Non-Gardening Partner, and his nominations are typically functional. He enjoyed building the new Pumphouse, and having the pond scraped and cleaned out in mid-winter.
Best Gardening Experience - NPG's Nominations
I'm caught between two very different experiences. One - innocently going to pick up some peonies and being offered the chance to buy (cheaply) thirty old fashioned roses, some of which I've barely dreamed about owning. Wow! The second - acting on a chance remark by a gardening friend while on holiday in Washington DC and driving 160 miles just to visit Chanticleer, a very special garden in Pennsylvania. And falling in love with purple Alliums, strategically placed pairs of Adirondack chairs, vegetables in pots on patios... Another wow!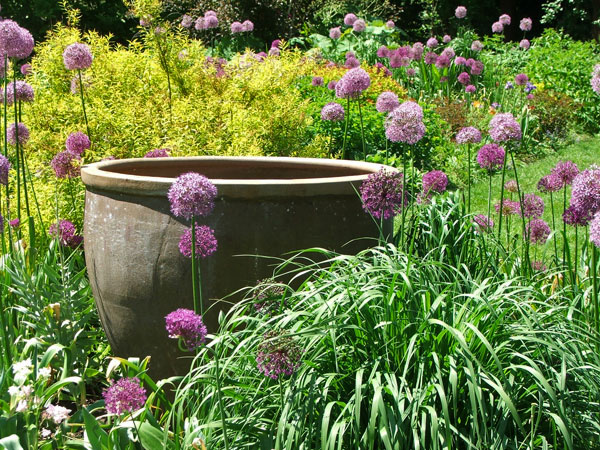 Best Garden Experience - Visiting Chanticleer
I'll get used to those new roses - I'll probably be ignoring them in twelve months time. Overall, my visit to Chanticleer has the bigger 'wow' factor. So Chanticleer gets the supreme award for the Best Garden Experience of 2009. Congratulations to this amazing garden, which I will never, ever forget visiting. I promise!