Stone Path and Steps
Rounded river stones occur naturally in many parts of our property. So it's natural to use them in creating walls, paths and steps. The laundry stone path and steps were already here, as was the Hydrangea on the left, when we arrived. Ferns line the path up to the Laundry seat and on to the washing line.
Ferns and Hydrangeas - 2010
The path is simply concrete with stones inlaid. OK, so it can be a bit slippery in the rain. And the nearby mint loves to pop up in the wee cracks around the atones. But I just love the look, particularly when the ferns are fresh and green.
stone steps and path
The following photograph was taken one winter, after the ferns and shrubs had been trimmed and most of the unwanted greenery pulled out of the path. Here is big brown Escher, posing on the stone Laundry Path. Isn't he handsome?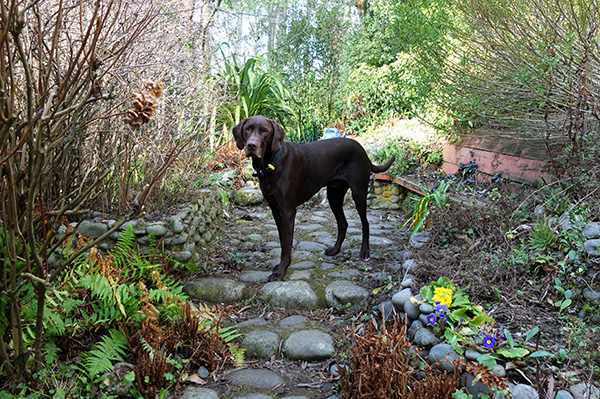 Escher is a Country Dog...
Original Lavender shrubs have been replaced, and I've planted a Rosemary shrub planted nearby. Just for the record, when I first gardened here I got things quite wrong. At the corner of the stone path I planted my very first daylily purchase, Stella D'Oro, underneath a bevy of pink and white roses, proudly named the Icing Sugar Border. Not a good location for roses and daylilies! By 2005 all had made their getaway and the yellow invasive Lamium was allowed to take over. This somewhat annoying ground-cover doesn't care about lack of sunshine.