Manly Garden Help...
The Manly Garden Help might be coming to the Moosey Country Garden this very week. Desperately searching for suitable garden tasks, I have finally thought of one - laying weed-mat and stones on the main Dog-Path. I know that the arrival of the Manly Garden Help is unavoidable - he is a belated Christmas present from the London Mooseys.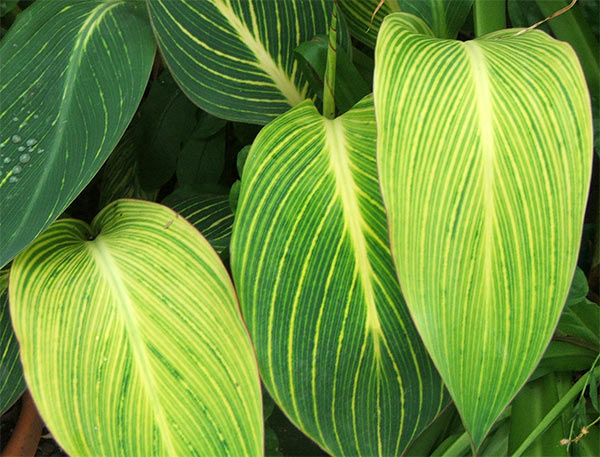 Canna Foliage
Saturday 7th January
Two things have occurred to me. For the last two days I've been gardening like a lunatic, trying to get everything in complete order - before he comes. This is simply not logical. Then each evening I have been puzzling and panicking - what on Moosey earth will I get him to actually do?
A Second Pond - Dug by Hand?
Cynics would suggest this is the ideal opportunity to start and finish something big - the digging of the new second pond, for example. What a great chance to experience for once the well-resourced, shovel-sharp cutting edge of garden design! But my garden projects have always been driven randomly, a whim one morning followed by days of regretful digging, muddy bottom, aching knees and sore hands - with unplanned trips to the nursery sale to fill the inevitable gaps.
Oh well. There is more to this London Moosey gift, too - each day the Manly Garden Help arrives he will be bearing a gift - one plant per day, pre-ordered. He apparently has a a van in which can fit at least three medium sized conifers - the London Moosey team's idea of a horticultural joke, since they know I'm not the biggest fan. Though I do have a green blobby conifer in my rockery, with attendant guard-gnome - a deterrent in case it's nicked by a visiting opportunist courtyard gardener...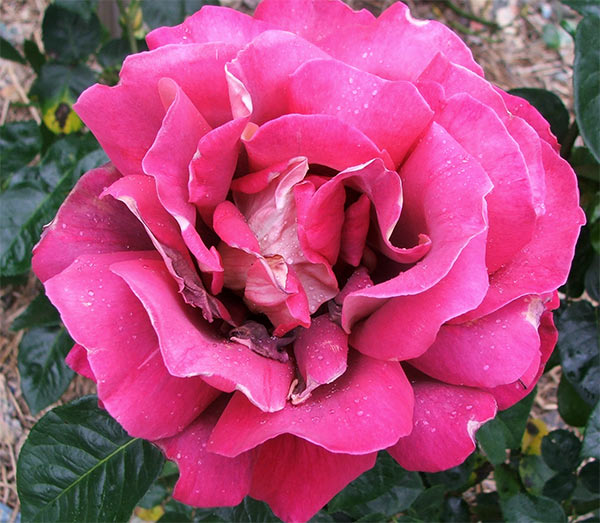 Kronenburg Rose
Right. Be decisive! I think I'll choose Pittosporums and flaxes, and direct 'him' into the Hump each day with a packed lunch and a thermos of tea. There is that saying about looking gift horses in the mouth!
A Bit Later...
Good Morning to Stumpy the old grey cat, sitting on my lap and purring. I'm just back from a nerve-wracking bicycle ride with Rusty the puppy-dog (we almost chased a large colourful peacock, strutting in his own driveway minding his own bird business). While pedalling (and shouting) I thought of heaps more sensible things that the Manly Garden Help can do. I think I need to make a living, expanding (sentient?) list. This will help confidence and facilitate a graceful mind-change from gloom to zoom!
Garden Help List - Provisional, Expandable, Flexible and Sensible
Weed-mat and stones on Dog-Path.
Soil conditioner spread on gardens over the water race, in Wattle Woods, and in Birthday Rose Garden.
Hump cleared out. Rubbish piled on fence-line - too late for burning.
I think I might almost be ready for this! Out I go, then, to weed in the Hump and make sure it's not too messy for non-Moosey eyes. Which indicates I'm still missing the point!
Dog in the Hazelnut Orchard
A Lot Later...
I've been weeding by the water in the Dog-Path Garden, where I have a new digging plan to alter the curved edge - I have laid out stones accordingly. The new roses dug up rudely from a friend's garden not so long ago have survived - they are finally flowering. Whereas the nearby clumps of miniature daylilies are disappointingly dull - there are only two or three stems. This year I must split up these clumps - I think they are Stella D'Oro, supposed to be fabulously floriferous... This autumn I could deal to many of the daylily clumps.
Cat and Dog Company
I am in for lunch and a rest from my sun-gardening. I have been surrounded by friends - Jerome the cat lurking (and squeaking) in the tussocks and Rusty the puppy lurking in the water race - just in case something exciting was to float past his nose. Then Stephen arrived to sit and chat - nice - I managed to interest him in some chain-saw trimming of the Willow tree, which will be done later this afternoon.
We talked about our animals - neither of us can very clearly remember Taj-Dog in the Moosey garden. I have a horrible feeling he was a dead boring and basically thick dog. You certainly couldn't have a decent conversation with him.
+10

+10 And the two new designer kittens Fluff-Fluff and Beige Puss (yes, as my family insists on pointing out, these are very silly names) have now been added to the Most Valuable Pet Competition, or MVP for short. Eek! I have awarded each kitten ten bonus points for being late entries - this should help them catch up on points! And I reckon I should be able to take points off Rusty the puppy-dog for misdemeanours - e.g. chasing that beautiful peacock, burying his dog biscuits, and so on...
Heaps Later...
The Manly Garden Help is arriving at 10 am Monday morning! Aargh!
Sunday 8th January
Aargh! Just when I thought I'd got over the seriously committed garden touring concept - that which involves turning huge numbers of New Zealand dollars into measly British pounds, and spending two whole days on a plane just to get a change of stars and weather that comes from totally the wrong direction... I should have stayed out of the forum, that's what! You see, I've just been reading about a garden restoration in Devon, England, and I've decided that I'd like to go and see it for myself. I could stay there - it's also a bed and breakfast!
Pyrethrum Daisy Flowers
Hopeless! I am too - tired? old? broke? unadventurous? lazy? to go travelling. On the other hand, I could stop-over here, there and everywhere, and take my Visa card - and visit gardening friends! Ha! It would be the perfect late-mid-life challenge - or crisis? Last time I took myself off to tour English gardens (ten years ago) I came home wanting to build a moat around the Moosey house...
Back to reality. The non-moated Moosey house and garden, filled with nasty, swirling, noisy nor-west wind, is unappealing today. I am organised, mentally at least, for tomorrow (the garden help is coming). So I think we might take puppy-dog to the mountains and go for a Beech Forest walk. I can think ever-so-slightly about a grand world garden tour, and reaffirm all the reasons why I will stay safely at home. Ha!