Happy New Year from Mooseys Country Garden...
Happy New Year from Mooseys Summer Country Garden - the happy home of four mature cats, two kittens, one dog, a shrieking fence-line pheasant and a bleating super-sized pet lamb called Fred.
Sunday January 1st
The year starts with the best news - Dame Stumpy (the grey cat) is back sitting on my lap and smooching my hands as I type. The wonders of cat-antibiotics - this time they seem to have worked. Bless her! What an improvement in 24 hours.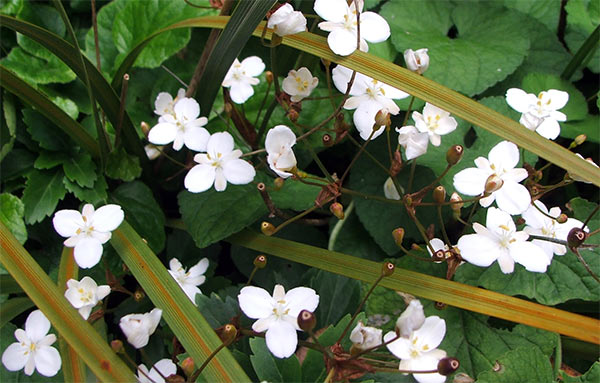 Libertia Flowers
The year should also start with dollops of gardening resolve and new plans - perhaps a few weeding frenzies and a rose dead-headathon. We'll see, we'll see. The last summer days of 2005 have been lazy - energy has been conserved for flipping the steaks and sausages on the barbecue, and swatting flies. The garden still looks beautiful though, and I have remembered to water things, but my active mind has strayed from core (chore?) gardening to the cosmetic trimmings.
Snoozing Dog
Garden Benches - and Dog Chairs
For example, would I like a permanent little round table and chairs perched underneath the Liquid Amber? My green plastic cheap chairs blow away into the Jelly Bean Border with the first medium puff of wind. A new garden bench (with older-lady gardener cushions) under the flowering cherry tree in the pond paddock? A couple of reclining deck chairs for the decking by the pond? Perfect places, all close enough to the house for the cup of tea not to go cold, or wobble and spill on the tray of summer snack food. Summer lounging, eating, tea-drinking, and reading of detective novels is a very pleasant pastime.
New Year's Resolutions?
My web-site boss has written me a New Year's Resolution (I don't think it's supposed to work like that). I am to stop being shy of the Moosey Forum (I am - terribly!) and get posting. Trouble is that I write so much in other places - this journal, for example. He can't seriously be suggesting that I trim my journal edges? I love my journal! And I know my far-flung family reads it, and finds it fascinating.
Journals are great fun - the ex-Moosey House Guest writes a journal from the Maldives, full of amazing edge-of-the-world photographs. The Moosey stay-at-home journal is full of flowers (the same ones, each year) and animals. Some better New Year's Resolutions would be to write more interesting things in the journal, learn the proper names of plants, and have more photographs of cats doing cat-things.
+10
Right. Final pat for Stumpy the hopefully recovered cat. It's time to get those two zooming kittens up. Feed the pet lamb. Then a New Year's bicycle ride with Rusty the dog. Then we simply garden! The year must start on an energetic, fully-committed note - that is until the sun gets too hot.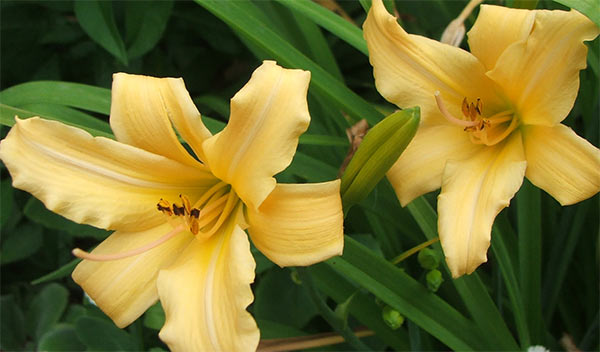 Summer Daylilies
Later... Several Small Successes!
I've weeded the house garden by the decking, with kitten company - nice!
I am wearing my new size 14 apres-gardening shorts - and they fit!
I have just applied the best ever apres-gardening hand cream in the whole gardening universe. Huge thank-yous to Crabtree and Evelyn, the London Moosey team, and the rural postman.
Tiger the cat is now a bit sick. We think that one of the new kittens must have introduced this cat-virus-infection. It's impossible to tell if Mugsy is unwell - she is always so dozy and slow anyway. So there is a sharing of medicine, and another vet trip if Tiger doesn't perk up. She's not too bad, though.
Interesting Pond News
On our bicycle ride we stopped to look at a proud neighbour's new pond. We walked around the paths, peered at the plantings, and listened. The excavation wasn't too expensive, and the man with the digger also sealed the bottom with clay. Such details had Stephen squirming in his saddle, desperate to get away - he's been hoping for months that my second pond in the Frisbee Lawn idea would wither and die, for lack of watering. Hmm...
Monday 2nd January
I'm sorry, but there can be no gardening today - well, nothing relaxed and mellow. The norwest wind is howling and gusting, and there are severe wind warnings out for various parts of the country. In the Moosey garden the gums create a continuous background of noise - tree-screamings, leaf whistlings... If anyone thinks that musical noises (for example, bagpipes) are annoying, they should try weeding in my garden in a raging norwester!
Garden Chairs
Tuesday 3rd January
Yesterday I did manage some water race weeding with Rusty the puppy-dog after tea - when the wind symphony had quietened a bit. Today, in honour of Beige Puss (there is a tenuous connection here, which followers of New Zealand cricket will work out), I am off to the cricket. Real cricket! Yippee! But how will my garden cope without me? Probably very nicely, thank you! Weeds wait for no woman...