The blooming business...
Many of the the Moosey roses are back in the blooming business, bringing colour patches (largely unappreciated) to the mid-summer garden. The sun is so strong, the light is so bright! I wish the house lawns looked better...
Thursday 26th January
One of my forum friends reminded me - rightly? Be careful what you wish for. It might be safer, then, to wish for negatives - I'll give it a try! I wish there was no black-spot and rust on my roses, and I wish there were no scruffy patches of dead-looking lawn. I wish that no day goes past without the arrival of my keen Manly Garden Helper (photographs still unavailable) - or his admirable side-kick and excellent stand-in, my hard-working Sonly Garden Helper. Getting personal, I could wish that I'll never get too fat to fit into my favourite gardening shirt, and that I'll never, ever, ever get sick of New Zealand flaxes in my garden.
Pink Hollyhock Flower
I seriously do wish I wasn't so nervous about my possible world travel (I have been to see the travel agent). Am I worried about normal things? No! I'm worried that I will see a wonderful garden in Europe, or Canada, and instantly want to come home and be boring again in my own. And when reality reminds me that I am on holiday, miles away from the Moosey Garden which is wintering over anyway, I will sulk and end up not liking myself! Ha!
Thoughts on Compost
What should I do first in the garden? I will weed the Island Bed (time for a Lychnis ripping-out session) and prepare it for a load of compost. The interesting smell (and temperature) of yesterday's load suggests rather too fresh pig manure in the mix - I must be careful not to 'burn' anything. And as for the good (or bad) timing of the great Moosey Compost Application? The right time is simply when the gardener has the time, I'm afraid! If the compost isn't free, then add the following requirement - when the gardener has the money!
Free Horse Manure :

Free manure and free weeds for the Moosey garden.
I get disheartened by all those bags of free horse-poos carefully collected and placed on the garden. Hello, free weeds! Welcome, won't you join us! Ooh, you're a nice new weed - haven't got one of you - what's your name?
Right. Today. Overnight the big irrigation has helped freshen up the house gardens, and give much needed water. The lawn is a mess of gum bark from last week's wind. Now there's another thing I could easily do! Time for another cup of tea (and a bicycle ride with Rusty) - then off outside to weed under the beautifully blooming Sally Holmes roses.
Big Dog, Little Kitten
Early Afternoon...
That's enough hard work for now. I've weeded the whole of the Island Bed, and the curved border outside the bay window (which was extremely weedy, and possibly needs replanting - a mini-make-over, perhaps). The Sally Holmes roses were a mirage - on closer inspection the flowers were well past their best, needing (and getting) a major dead-heading session. I has animal company - Rusty dog and the two kittens (Fluff-Fluff and Beige Puss) scampered around, bouncing on tussock grasses and poking around underneath the general greenery.
Gum Tree Mess...
Then I raked the gum tree mess off the big house lawn. A rational approach is needed if one is to retain a majestic Eucalyptus tree, evoking nostalgia for the Australian bush (and having fabulous textural bark), as a feature in the middle of a house lawn. First step - a ring of foliage-filled pots around the tree's base - nothing would happily grow in the soil here. The next step is for the head gardener to regularly clean up the mess - once a week should do it. And the third and last step is to stop moaning! Or chop the tree completely down, and have firewood for life? Hmm...
Right - I am off for a therapeutic, soothing, back-stretching swim. I can glide up and down in the slow lane and think about September - visiting the Maldives, Frankfurt, Belgium, London, Toronto (hopefully near enough to my gardening friend Jo-Anne, now I've got the Canadian states around the right way), Vancouver, Seattle, and then - who knows? How big is the world, really? Probably as big (or as small) as the wallet allows! And if I miss something out, well I can always go back next year! Gardens, friends and family - my Non-Scary Grand World Garden Tour will be heaps of fun to look forward to.
Friday 27th January
Good morning to Stumpy the cat who has just arrived for journal-writing lap-duty. I have had the laziest idea for a day off - after all, this has been my most productive gardening January on record (spending hours and hours weeding, spreading compost, raking paths, watering and shifting rhododendrons, and so on). But this creates a dilemma - if I intend to do nothing, then there is nothing to say. If I feel like writing in my garden journal (I do!), then I am honour bound to write with honesty and garden intentions.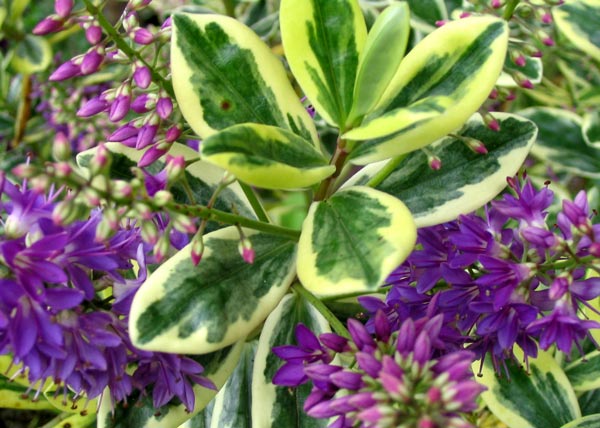 Variegated Hebe Flowering
Ha! Got it! I will plant those spare Hebes - not in the dry Wattle Woods (where they will end up getting yet again rescued) but way behind the Stables, on the edge of the water race. Then, if I still feel moochy, I can trim a bit more of the nearby Willow Tree. This strenuous hand-sawing of reasonably large tree branches should 'stop the rot' (unfortunate turn of phrase!) and restore a sense of achievement and progress to the day. Finally, I will write down some late January lists.
Impressive Things in the Mid-Summer Moosey Garden
Crepuscule, the gentle, thornless climbing rose, flowering again with delightful new reddish foliage.
The light catching the fluffy parts of the red leaved Cotinus in the Driveway.
Red dahlias being bold and red - strong enough for the strong summer light.
Nicotiana Sylvestris plants - huge, white flowers, clean green leaves.
Perennial Mignonette filling gaps in the Willow Tree Garden - what a nice woodland look!
Hopeless Things in the Mid-Summer Moosey Garden
Daylily Stella D'Oro - by the laundry, not one single flower again.
Canna lilies still only ankle high, not really growing well, in too much dry shade in the Pond Paddock.
Dahlia Bishop Llandalf, now flowering in its pot behind the glass-house, screaming out 'plant me! plant me!'
The Clematis Montana in the Driveway, strangling an innocent Choisya shrub and a flowering cherry.
The solution is really quite simple! A little less talk, a little more action...
Cotinus and Prunus Leaves
Much, Much Later...
I am back. My sore hands have pulled out Lychnis, scooped up gum tree rubbish, and wrestled with Clematis Montana tendrils. I have dead-headed white Iceberg and bright pink Flower Carpet roses. I have trudged back and forth to the dumping area on the fence-line. I have pulled out lilac phlox (some pathetic survivors were lurking in the Driveway Garden) and scattered seed-heads of variegated Honesty. The good Bishop is in his proposed planting position, as are various Hebes. I have been bitten by a spider (ouch - nothing serious), scratched by rose thorns (a Parkdirektor Riggers rose underneath the mass of Clematis - when on earth did I plant that?), and attacked by Fluff-Fluff the Fearsome Foot Fighter Kitten. I am sore and tired and full of raspberries (my Latte Club had an afternoon tea at a berry farm cafe).
Saturday 28th January
Today, continuing the tradition which was started by the Manly Garden Help (sorry, no photographs yet) and taken further by the Sonly Garden Help, I hope to have Senior Garden Help! Small things like lawn mowing, Willow tree branch trimming, compost acquiring and spreading are on his list. Chainsaw and tractor noises will fill the country air! I shall operate, quiet and listless (not quite the right word!), in the Hen House Gardens, none of which have been raked since the last big wind.
Peppermint Pelargonium :

These lovely foliage plants are frost tender and need a lot of water.
But first I will pot some peppermint pelargoniums which have been growing roots in a teapot on the kitchen bench. And I promise that, before the day is done, Stella D'Oro, the Hebes, the Cannas and the Bishop will be properly replanted. I will also take lots of great photographs of the late January garden.
Dusk...
Oops. My puffy secateurs are seriously lost. My hands are sore. I replanted the things mentioned, but didn't take any photographs. I am tired, and sick of raking up gum tree rubbish. But the garden actually looks quite lovely, mainly as a result of my weeding and composting programme. And the kittens have been helping me for most of the day - nice.