No tangents...
Sunny Pansies
Oh boy. I am so busy. No time to get bored, or go all dreamy, or get sidetracked. No tangents - I need to work, work, work... My garden needs at least three versions of me. And we won't mention the weeds...
Saturday 3rd October
Today my garden needs the following tasks done. First I'm doing some efficient weeding (I'll be crawling along the side house border up to the Shrubbery). Then I'll be planting more Agapanthus. I'll also be checking the glass-house seeds, pricking out any that are big enough, and helping to cart the sheep down the road to the shearing yards.
But There's More...
But there's more. Mustn't forget some watering. And I need to clear more rubbish out from the back of the pond.
Oh - just remembered - the Wattle Woods near the Pumphouse need weeding, too, and burnable rubbish must be dragged out. Right. Where to start? At the beginning, I think...
Honesty in the Shrubbery
Much, Much Later...
I have worked for nearly seven hours. Seven hours - what an absolute legend! I have been seriously weeding for most of the day. And doing my seeds, some of which are very disappointing. My enthusiastic watering seems to have drowned all the Salvia Horminums. Blast! And I've been helping with the sheep. I've trimmed edges, too, as all the lawns have been mowed.
Periwinkle :

Periwinkle grows throughout the gardens at the back of the Shrubbery.
New plants - I've found the first dwarf iris flowering, so I picked it for the house. It's one of those beautifully subtle pale blues. My hostas are on the move. There's a huge variety of start times, though - some (possibly the species clumps) are fully leafed, while others are just starting to poke out of the soil. Weird. The blue Vinca in the Shrubbery looks gorgeous, as do my budget Genista shrubs. Lovely yellow! These two shrubs 'cost' me a dollar each.
Apart from the weeds, which will not be mentioned any more, the garden looks amazingly beautiful, and needs to be thoroughly enjoyed and relaxed in. So I need a clean Moosey clone to return outside, sit on a garden seat in the afternoon sunshine, and NOT immediately see a new patch of garden which needs weeding! Weeds! Aargh!
Sunny Garden Bench
Sunday 3rd October
The cricket is too scary - New Zealand is playing Pakistan for a place in the final, the scores are close, the game is nearly over. So I'm off for an early morning therapeutic walk around the garden. Hee hee - I'm back. We WON the cricket! Yippee! Now I can relax. I managed to do some power weeding while my country's cricket team were power batting!
The weather is supposed to deteriorate today, so I'll try and plant as many of my remaining Agapanthus clumps as possible. They're all going in the Welcome Garden. What else? Oh - weeding. And watering the new Camellia. And perhaps it's time to plant my 'new' roses. They were 'dig-ups' from another garden, and have been sitting in potting mix for a month. They do have some buds...

+10
My old (sick) grey cat Jerome had a very restless night, though the pain relief certainly makes her happier. I'm making every moment count (including claws in the face at three in the morning). Her memorial tree isn't far off now... Enough of this. I'll grab a cup of coffee and return to my work.
Much. Much Later...
I am so clean! I've spent the afternoon in the shearing shed working with the fleeces - lovely lanolin for the hands, but one ends up with a very sheepy smell. Fred the ex-pet lamb is ridiculously fat - he has a bulging 'belly' bottom which wobbles over his back legs, and his sideways silhouette is an ellipse.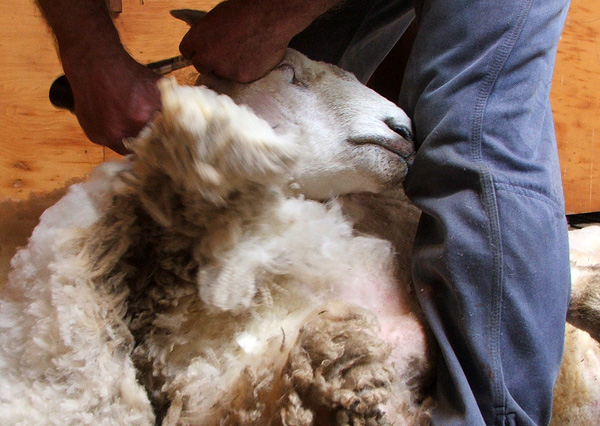 Fred and the Shearer
Fred's fleece goes in a special bag on its own (he's not a merino). I took some photographs of him looking disreputable. And some nice connections - Mike the shearer is also an artist, and has done some paintings of Ilam Gardens (the private rhododendron and Azalea gardens I visit each year).
New Flowery Things
Earlier I planted all the Agapanthus. Then Fluff-Fluff the cat and I went for a walk to find the pheasant (he's been honking loudly in the gardens). No luck - but I've found lots of new flowery things - white blossom on a Crab-Apple tree, and flowers on a small vivid lime-yellow rhododendron called 'Teal'.
Darmera Flowering
The Darmera by the water race is putting up its pink flowering stalks (they come before the leaves), and more little blue irises are in bloom. But I was good - whenever I saw any weeds I lunged athletically into the garden and pulled them out.
White Camellia
More New Plants...
Tomorrow (hee hee) I am off to pick up nine red flaxes, one straw-coloured Leucadendron, and three Flower Carpet roses. Oops - I've been buying online again.
Monday 5th October
It's about six degrees Celsius - brrr - a mini-cold snap. Snow has been forecast to two hundred meters (higher than Mooseys, phew) and I'm off swimming. I may not garden too much today. But so many little things are happening - for example, the Aquilegias are almost in flower. The pure white Camellia in the Wattle Woods is blooming. I might miss something! And the big flowering cherry trees in the pond paddock are drop-dead gorgeous. Eek - I don't mean that they think of either dropping dead or dropping dead blossom down!