The autumn bonfire - days 2 and 3
Winnie the Dog
It's day two of 2020's big autumn bonfire. The weather is quite warm, with no wind. Blast! I rather like the wind (great excuse not to burn, hee hee).
The plan...
So here's the plan. Winnie the dog has had a slow walk with me to check on the bonfire (still quite warm from yesterday). Then twice around the orchard briskly with Pebbles, while Winnie (whose exercise is regulated) did battle with the wobbly Kong - her frustrating food toy, in which I'd put half her breakfast, hee hee.
Have just enough time to play through one of my Albeniz pieces before my ballet class. And then - aargh! Into my garden grubbies and back to the bonfire. It's burnt right down to a flat, fat pancake shape, smouldering quietly, it is.
Oh boy, oh joy. Do I actually feel like another bonfiring day? Probably not, but I guess I will just try my best. There's so much to burn - piles and piles on all the fence-lines. The legacy of gardening underneath Eucalyptus trees and growing lots of Phormiums and Cordylines. None of this stuff composts.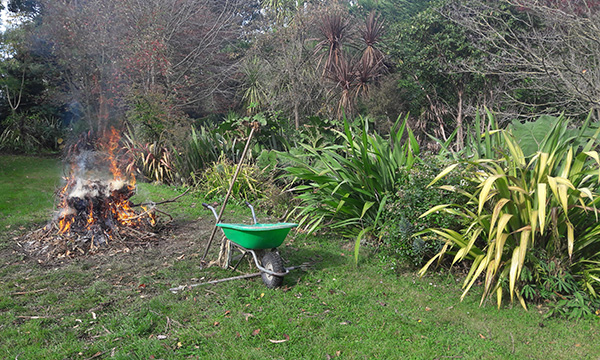 Bonfire Day Two
Much Later...
Not my finest day, I'm afraid. I ran totally out of puff by 3pm, came inside to shower, then fell asleep in a chair in the sun. I was so cross with myself for not lasting longer. And this only my second bonfiring day!
Bonfire Day Three
Day Three of the autumn bonfire...
Right. Today I'm going to trick myself. How, exactly? Easily! I'm going to go outside right now, breakfast time, and start the bonfire. By the time I've woken up properly I'll have been burning for a couple of hours and won't notice. Yes?
And I've got a new rule. Whenever I bend down I have to bend my knees. Practice my ballet plies, if you like. Dozens of good gardeners do this without thinking. I am going to join them.
Much, much later...
I did it! I burnt all day without stopping, without moaning, without getting sad and droopy. I trundled in barrowloads of gum leaves from behind the cottage, plus one trailer full of mess (lots of dahlia trimmings) from another fence-line. Sat on the damp grass again at the end of the day and watched the huge ash volcano for half an hour : wondered I'd see it diminishing in size. Nope. But by the morning it will have turned into a flat pancake. Thought - I could video it. That would be a mesmerising watch.
Bonfire Day Three - Later
As the friendly fantails swooped around me, I did a stock take. Garden : beautiful late autumn leaves from the Prunuses, the Copper Beech, the Cotinus trees, and others.
Body : well done, feet - lots of plodding today. Good bending, knees. Legs - just one little scratch, not a problem. Hips - get over it. Hands - some hand cream will sort you out. Hair - OK, will wash you. Rest of body - OK, will do something after shower so you smell nice. How about some sweet mandarin and grapefruit body butter?