Bonfires and roses...
There are times when a garden diarist shouldn't write anything, yes? For example, the day before the lifting of the fire ban, when the gardening heart is heavy with regret for the coming autumn bonfire.
The Autumn Bonfire Site
Ominous - visualising myself carting heavy loads of dry rubbish, scooping up hedge trimmings, filling the trailer with masses of mess, hour after hour. This afternoon I've been getting prepared, raking paths and clearing around the Hellebores in the Wattle Woods, dumping the mess straight onto the bonfire heap. Ready to go. Midnight tonight is the official time. Aargh!
Late flowering roses
Aha! It's the perfect time for some rose thoughts, to balance this rather dour mood. I must give thanks to the late flowering ones, complementing the autumn leaf colours so well.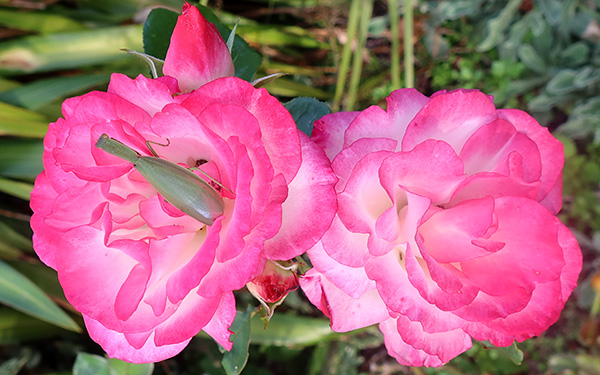 Raspberry Ice Roses and Green Friend
Some only have a few flowers, and others seem to have had their petals munched and half-eaten (earwigs?). Sorry about that, you gorgeous darlings.
Red Flower Carpet Rose
Red Flower Carpet rose?
In the Hump Garden a red rose, supposed to be one of the Flower Carpet Noack series, is doing everything but being a carpet. It's hugely fat, spreading up and out over everything, blocking one of my paths. Ouch! The rambler in the heart of this rose is bursting out all over the place.
A tall Wedgwood rose near the pergola is wonderfully fragrant - Normally the flower heads flop over, too heavy for their stems, but with no rain they're magnificently holding their own. They will be such a nice foil to my smoky bonfire (which sits on the open lawn near the pergola, and which I'd rather not think about, thanks very much).
The Crepuscule climbing roses out in the sunshine on the fence line are blooming again - so beautiful. But the oldest Crepuscule on the pergola is sagging badly. The saw, I think, if I can find my little hand saw
Crepuscule Roses
Nothing quite as beautiful...
There's nothing quite as beautiful as a pink rose - unless it's an apricot one, or a velvet red, hee hee. And let's not forget the pretty creamy whites, and the cheerfulness of the eggy yellow Graham Thomases in the Allotment Garden.
And just like that I feel heaps better! I love the roses - couldn't be without them. Whereas, thinking of that autumn bonfire... Aargh!