The Best of 2007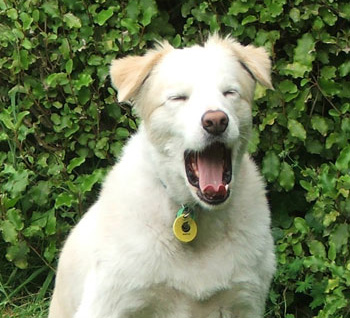 Best Dog
It must a sign of the Head Gardener's advancing years. I've been looking back sentimentally over 2007 to hunt out the highs and low of the last gardening year - to reminisce, and hand out awards for 'The Best of 2007'.
The Best Dog of 2007
Rusty the red Border Collie gets the best dog award - of course, he is the only dog, but that's no reason not to get an award, is it? Actually, he looks rather bored with the award.
The Best Cat of 2007
The Best Cat Award is much trickier. I have a bad habit of telling each cat that they are 'the best', and with eight felines there's no place for petty jealousies. But I can definitely say that Tiger the Tortoiseshell is not in the running, due to disgraceful acts of in-house piddling (the back of the TV, the pantry).
Without wanting to push the sentimental wheelbarrow, I'd like to give the Best Cat Award to B-Puss. He's not around anymore, but his memory certainly lives on.
Best Cat 2007 - B-Puss
Sometimes out of the corner of my eye I'll see a flash of white across the lawn, a peeping face around a rose bush - then he'll be gone, and reality will return. I'm sure the other cats won't mind...
The Best New Plant of 2007
Ha! It's definitely my Carex Triffida, a grass which looks like it could colonise a paddock in a month. Only the boldest, strongest-willed gardener would purchase three of these potential monsters and plant them defiantly by her pond.
Carex trifida
Especially when there's a warning at the bottom of the plant label - 'Not suitable for propagation'. What on earth could that phrase mean?
The Best Flower of 2007- Non-Rose Category
This award does not go to any of my daylilies (which have been hopeless). Nor can the delphiniums be considered - far too fussy. I mean - just a little breath of a gentle breeze, a slight swoosh of sprinkler water and they're falling flat on their faces! Nor have any of the rhododendrons got a show of winning. They've all decided to have this year off, in the flowering sense, hoping to confuse the Head Gardener with lots of lovely new green growth.
Best Flower 2007 - Iris
It's definitely been the Year of the Iris, and so a patch of yellow irises win this prize. They've survived gales which have toppled large pine trees - and what's worse, a thundering red Border Collie dog trying desperately to chase, catch, and devour the hen house rabbit.
The Best Rose of 2007
Ha! Gloire de Dijon - you lose! So do you, Tess D'Urbervilles, and as for you, Lady Barbara - not a show! The best rose award for the year 2007 goes to Rhapsody in Blue. I've planted some new standards of this healthy beauty in a small waterside garden, and they are just as impressive as my one shrub rose growing nearby.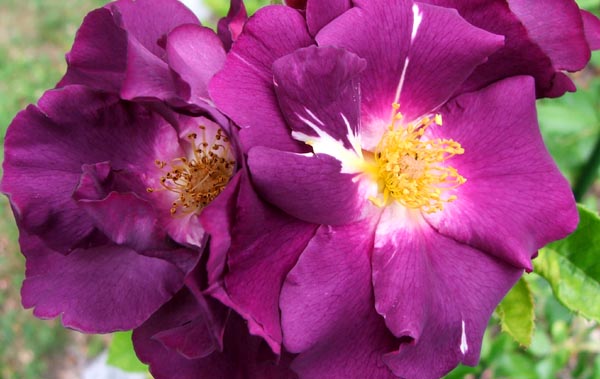 Best Rose 2007 - Rhapsody in Blue
For any of you roses upset by my choice, here's a huge hint. It's not just the flowers - work on your foliage, get it as clean and green as Rhapsody in Blue's and then you might stand a chance! And there's no bias against pink roses in this garden. I adore all my pink roses. You are all lovely - in your own way - and don't you dare start organising a mass boycott in this year's competition...
The Best Path of 2007
A new entrant definitely gets this award - the new little path which winds around the house from the decking.
Best Path 2007 - Round the House
It was laid especially so that Mugsy the cat wouldn't get her feet wet on the grass between the cats feeding station and the laundry cat-door. How thoughtful!
The Best Garden Room of 2007
Sorry. Where did this award come from? I don't 'do' garden rooms.
The Best Laid Garden Plan of 2007
This award definitely goes to the Moosey Pond, the subject of an ongoing beautification programme. From small irrigation reservoir to elegant Reflection Pond - watch the progress, as scruffy self sown flaxes and trees are ripped out and replaced with exotic deciduous azaleas and delightful grasses.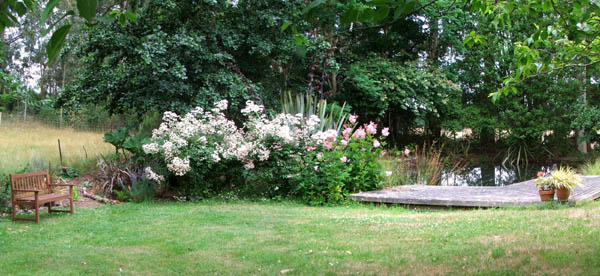 Best Plan 2007 - Pond Beautification
And a network of pond paths, because ponds need to be appreciated from all sides...
The Best Other Garden Visited in 2007
This is a very difficult award. If I give it to, say, the famous botanical garden Inverewe in Scotland, then thousands of grey-haired world garden-travellers in their rocking chairs will nod their agreement. If I mention a colourful, cherished private garden in Brussels, busloads of garden-tour ladies could descend upon a very dear gardening friend - this could be very alarming for her. Award an overseas garden and New Zealand gardeners could feel slighted - I've anonymously visited many open New Zealand gardens in rhododendron and rose festivals. But wait - I've got the answer!
Best Other Garden Visited 2007 - Mother Nature's
The winner is Nature's wonderful rock and bush garden in the foothills of the Southern Alps! Astelias and flaxes, Southern Beech trees, mosses, foliage shrubs, shining evergreens, little gentians and orchids, hebes, little paths, little streams, tussocks, stone and rock landscaping... Congratulations, Mother Nature!
So this is my Best of 2007 list. If the year 2008 is half as colourful, and friendly, and interesting...