Any excuse...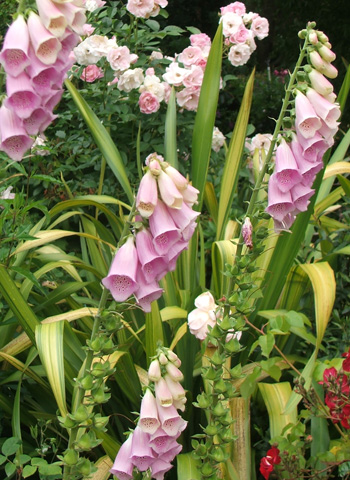 Old Foxgloves
Oh dear. I have been rather too leisurely this week in my gardening - so far, so not so good. But the garden is full of lovely flowers and shrubs, and it has been a bit drizzly. Any excuse...
Wednesday 8th December
Today I've pulled out a few foxgloves, dead-headed a few roses, pulled out some flopping self-sown cornflowers, and cut some fluffy pink peonies (Sarah Bernhard) for the house. It's been a day totally lacking in any ambition, filled with gardening cats behaving oddly and Rusty the dog lolling around on the lawn with his legs in the air. Percy my ginger cat has been chirping like a bird and Fluff-Fluff (yes - the fluffy one) has squeaked with distress whenever I've moved a couple of paces away from him. He is a big 'sook'.
Skinks in the House
Meanwhile for little Minimus it's the season of catching skinks (finger sized lizards) and carting them upstairs into the bedroom. Aargh! A good reason to vacuum the house every day - picking up a rug to find a wriggling skink trapped underneath, grabbing a drinking glass and ah! Sweet rescue.
Jeremy's Garden
Meanwhile Tiger (the fattest cat in the house) has been getting out more. But there's a catch - she's taken to climbing up the house pergola above the Compassion roses, where she watches the starlings nesting in the house roof. She can't get near them, but there is much anguished chattering of teeth.
Friday 10th December
Oh well - this is the summer garden after all, to be enjoyed and sat in as well as worked in. And I have so many garden seats to choose from...
Rusty the Dog :

Gardening with cats and a dog is such fun.
Rusty the dog is rather bored with me because I am still on a go-slow, in keeping with the fatness of my summer garden, my stack of good books to read, and my happy 'building' of Christmas calendars. I am on a serious hunt through all my folders for colourful garden pictures. Later this week I am furnishing Pond Cottage, and after that he may not see me at all...
All my peonies have now just about flopped to the end of their spectacularly fluffy lives. All the different varieties of Iceberg roses are in full flower. And, yes, the daylilies (I love my new egg-yolk yellow clumps) are flowering along with the yellow shrubs - Hypericum and Senecio. And so many beautiful hostas - my new plants in the back of the Island Bed are really lovely. Such pretty greens, and no slugs or snails to eat holes in the leaves. Phew!
PIlgrim Roses
Garden Praise
My flute-playing friend said the nicest things imaginable today as we wandered around today (after playing our tootling Bach and stylish Poulenc music). She gave me credit for creating a 'claire-voyee' (well, I think that's what she called it, seeing a glimpse of Pond Cottage while sitting in the Shrubbery's rustic courtyard). She loved all the roses, and saw colour themes and echoes in my motley, random collection of self-sown flowers. I love her!
All this gushing cannot disguise the fact that I did absolutely no gardening today - again! Oops...
Sunday 12th December
Today I'm definitely gardening all day. Oops - but hey! It's summer, and I've been busy socialising with my friends. And yesterday I went on a wonderful hike up Peak Hill. Note the word 'up', and the words used in naming this rather pointy landmark. The sun shone down, and the views cannot be described in words - ha! A quick picture, I think, taken by Non-Gardening Partner who was in charge of scenic photography. He was instructed not not take photographs of hiking bottoms, or of lady hikers eating their lunch.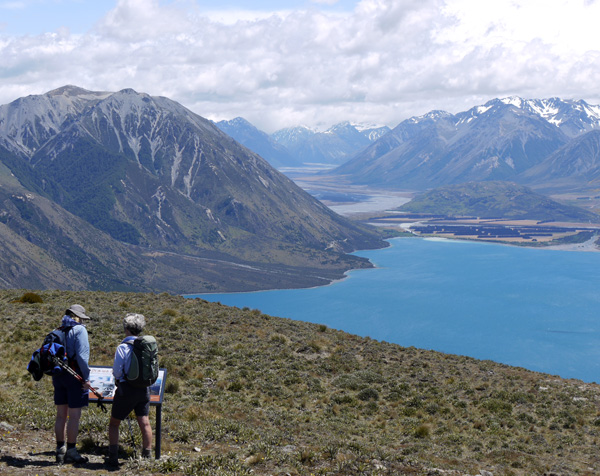 Peak Hill Summit
So back to today. I'm going to trot (maybe waddle, with my sore knees) my way down the gardens over the water race, nipping and dead-heading and weeding as I go. I will remind myself that this was once a messy paddock with a ghastly gorse hedge and rows of gum trees. I will then indulge in self-affirmation. I, the Head gardener, the only gardener, took that messy mess and transformed it into - well... This less messy mess? No? This colourful riot of fancy flower and fun foliage? No? How do serious garden writers find the right words?
Chevy Chase Rambling Rose
Serious gardeners forget about the writing and just get started, slowly and methodically doing their garden work, with a slow smile on the face and a gentle tune on their lips... 'How many kinds of sweet flowers grow in the Moosey Country Garden?'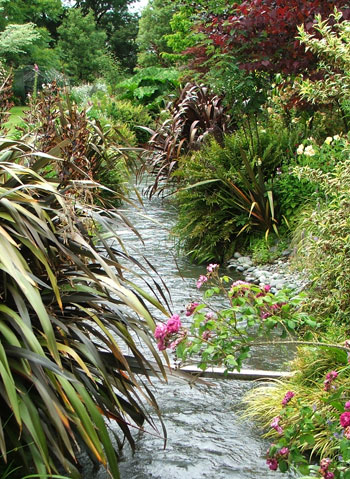 Summer Water Race
Much, Much Later...
I have worked quietly for over five hours - just tidying the house gardens as well as the gardens over the water race. I've planted out several punnets of my flowering annuals, and some of the cute salmon Pelargoniums. There are lots of weeded spaces for more plants, and I wish I had grown more panises from seed. Rhetorical question - how come there are so many foxgloves in so many of the garden borders? The answer is easy - because I've initially welcomed them, and then let them self-seed.
Happy Birthday
A family landmark for today - Grandson of Moosey is one year old. We have bought him a wheelybug, the small bee model, and I am imagining him buzzing around the London flat being a little yellow and black striped nuisance. Hee hee hee... Happy Birthday, G.O.M. The happy first of many...
And another for tomorrow - Daughter of Moosey (with lovely husband) arrives home for a few weeks. I have huge plans - hiking trips, cycling trips, general adventure days. I need her to tie up my tomatoes... And tomorrow morning I have to find a bed for Pond Cottage - quickly. Eek!
Monday 13th December
Oh dear. I've wandered around the garden today seeing a million and one serious things that I need to take care of. Number One - the orchard roses. Yippee for Chevy Chase, a brilliantly deep cherry rambler - this rose covers the archway properly, and looks gorgeous. But some archways have knee-high weeds underneath (thanks to me lovingly watering their roses), and several roses (Like Ghislaine de Feligonde) need a major trim. One or two are going to be dead-headed. That's a good morning's work, I reckon.
Later, After a Good Morning's Work...
All done, on a cosmetic level anyway, and all rose prunings burnt. I also grabbed several other barrowfuls of burnable rubbish. Far too many weeds, though - I might get them sprayed (hereby cheating, passing that job onto Non-Gardening Partner).
Wednesday 15th December
OK. So far today I've tapped back into place about ninety irrigation drippers (for the hazelnut trees in the orchard) and planted out the lilac cosmos annuals. I'm off now to beautiful the garden around Pond Cottage - planting some lime green nicotianas and red pelargoniums by the water, I think. No flower colour actually 'goes' with the paint colour of Pond Cottage - except green. Good for green, I say - and let the other colours clash if they must.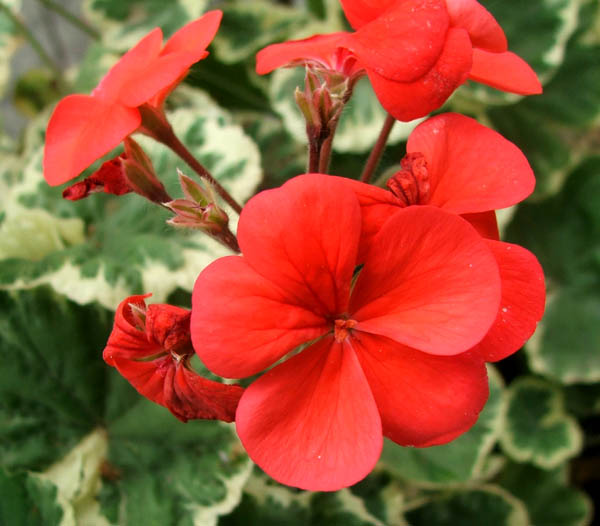 Red Pelargonium
Rusty the dog needs a cycle ride - he's been chomping hazelnuts in the orchard (shells and all), and needs to run off the excess weight thus gained. It's the silly singing season of Christmas carol concerts, so I have to smarten up and wander off to a choir performance not too much later. Tra la la.