A garden full of weeds...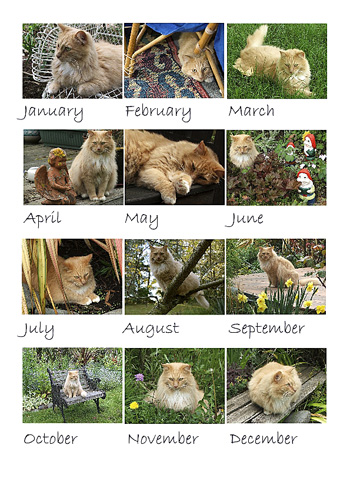 Fluff-Fluff's 2011 Calendar
Two cricket matches to watch (or listen to on the radio), a new hand digger, and a garden full of weeds. Oh boy. Oh joy - my summer holidays have really started. I love this feeling. And the wind has stopped blowing - for now. Phew! How about some summer holiday gardening?
Sunday 26th December - Boxing Day
I've done some. Today I've concentrated on the gardens surrounding the little garden path which leads from Willow Bridge). I've trimmed tussock grasses, dead-headed roses, and pulled out sorrel weeds. There will always be sorrel in this garden - I can't get rid of it. But the path is clear, and I like the fullness of the Stumpy (AKA Willow Tree) Garden. There are enough foliage perennials and shrubs to cover any flowery gaps. Blue delphiniums are poking out of the top of rhododendrons, and the self-seeded Angelica is still holding on to being green.
The day after Christmas day is always a bit slow and moochy. But the Moosey house is quietly empty, which of course brings out all the cats, who are most responsive to daytime peace. Fluff-Fluff keeps on wandering languidly over my computer keyboard (leaving me cryptic messages like 'pppppppppppppo444444444qq') while Histeria the tabby bounces up out of nowhere and hits the delete key. Eek!
Yippee for the New Zealand Cricket Team who have won the first T20 match against Pakistan.
Monday 27th December
Right. We are off swimming, and while I am ploughing up and down (ploughing? Makes me sound like a Clydesdale horse) I will plan my gardening day. For there is definitely going to be one. Home-grown rewards include snacking on fresh peas and raiding the raspberry patch.
Annual Yellow Layla Flowers
Yesterday, aqua-gossiping (which is what Daughter of Moosey calls aqua-jogging), my friend and I experienced an earthquake aftershock (only 4.9 on the Richter scale, which is big enough) while in the water. The pool building rattled and the water got choppy, so we dog-paddled calmly to the side ladder to hold on, just in case. So sad for the city to have its apres-earthquake Christmas spoilt so.
The Lawns Need Rain
Oh Dear...
Oh dear. Rusty the dog got some assorted dried animal products (like pigs ears) for a Christmas present and he is terrified of them (we put one in his bowl). However, he growls and will not let Tiger the curious cat anywhere near the scary thing. He needs to clarify the situation.
Later...
Today I make the following pledges. Every seedling and every cutting will be planted - in the garden or in pots. Nothing will be left in my glass-house to gasp and dry out in the hot summer sun. And I promise not to wear my groovy lounge-around sandals in the garden and thus get them dirty.
Tuesday 28th December
My pledge worked - even when I was getting bored with shifting and potting up things, I kept going. And nature has her own reward for me - gentle summer rain today, umbrella rain (no wind), very vertical, so not too much will flop down, and set to stay for the day.
The paddocks need this - and the archway roses, and my faraway gardens behind the pond and the Shrubbery, where the irrigation doesn't reach.
Sad Gnome News
Sad news - there has been virtually no gnome buying action all year. And then - yippee! An online auction for three small retro garden gnomes, a frog and a pelican. But some goose(?) had a huge autobid on, and I had to retire gracefully after $51. I've now decided that those gnomes were obviously too small, the frog was unsubtle (hee hee), and as for the pelican - well, I didn't really want a pelican, did I? I'm not that silly.
Garden Gnomes :

All the Moosey garden gnomes understand how to behave...
Alas - the online auction lists are back to gnome normal, full of little chaps making rude noises to passers-by, and mooning. Such gnomes would lower the tone of my garden and are definitely not welcome.
I am going to stay inside all day (funny that) and create some more 2011 Moosey calendars. I can ogle at photographs of beautiful things (November, which is my very late-spring, seems to produce the best of the best) and give thanks every hour, on the hour, that the rain will continue.
Cat in a Basket
Lunchtime...
Ha! The rain ceased, so I pounced. Well, rather I raked up gum bark, dead-headed The Pilgrim and Lavender Lassie (obviously both are roses) and pulled out old Lychnis from the Stables garden. Two barrowloads collected and dumped in twenty minutes - and then the rain returned, which of course is wonderful.
So I'm back inside and Fluff-Fluff the cat is jammed tight into his new basket next to my computer, snoring loudly. Hmm...
Friday 31st December
Oops. It's Friday, and I've done little gardening for three days. What is wrong with me? Absolutely nothing! I mean - one day it rained, the next day I played chamber music, the next day I went tramping with my friends in the mountains.
Hiking Lunch Spot
his shows I am a frightfully busy person leading a varied and fulfilling life, and do not need to always be obsessed with weeding, dead-heading roses, watering, and trimming edges.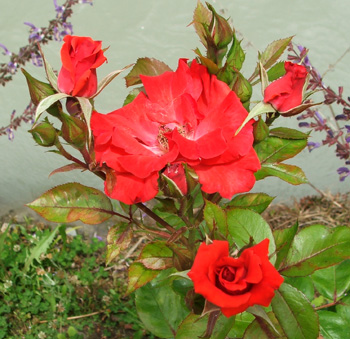 New Red Rose
But today I do have a formal plan, because I suspect it is the last day of the year (it is - I just checked). So some formality (and gardening) would feel nice, and would be a fitting end to an oddly random year. I am off to water the vegetable garden and trim the edges along the back lawn. I am going to work in spurts of one and a half hours, and that's the first.
Much Later...
Success. Two gardening sessions, punctuated by some piano practice. And a new violin and piano sonata for the New Year (by Schumann) which has seen Non-Gardening Partner (the violinist) scooting off to buy a new E-string.
I have been gardening with Lilli-Puss the grey in attendance. Lilli provides sharp cat-company - she likes to leap onto the gardening body, then fling and drape herself around, clinging rather like I imagine a junior monkey clings to its mother. Except that Lilli is a cat with claws. Ouch.
Daylily
Clearing and Trimming
Anyway we cleared the Birthday Rose Garden of the cornflowers (cutting up the flower seed parts for mulch), freeing up the daylilies for sun and space. And then we trimmed Delphiniums and pulled out Lychnis from the Pergola Garden. And then we (this is still Lilli and me) wandered off to the orchard to 'inspect' the raspberry patch. I am perpetrating the country myth that all the ripe raspberries (not under netting) are being eaten daily by flocks of blackbirds. Hee hee. More likely one old blonde bird in three quarter pants and a blue gardening shirt, accompanied by a squirming grey monkey-cat...
Farewell to 2010
Farewell to 2010. So the garden, the Moosey cats, and the dog are all a year older. And the Head Gardener. But I feel exactly the same, just mentally a bit smaller (if that makes any sense). 2010, you have been an odd year, but at least you haven't been boring. And thanks for all the enjoyable things.