Just weeding?
Aha! Today I just weeded. Just weeded? Humph! Since when does a gardener 'just weed'? To be more specific, as well as pulling and scraping weeds out of the garden with my hand tools I squirted nasty secret stuff on the sprouting Alstroemerias. Shush...
Behind the gum trees
I also trimmed a couple of ornamental Miscanthus grasses, and pulled out Campion and Forget-me-nots from the lawn around the BIG GUM tree. Non-Gardening Partner is too soft-hearted to mow them. I put everything on the bonfire but it didn't reignite. Happy with that!
Periwinkle Flower
Wednesday 4th October
Yeay! Went swimming, played chamber music for an hour and a half, then zoomed home and into the garden. Cleared the lawn of periwinkle, collected up lots of fallen gum branches, and carted more mess to the bonfire. Am having a wee rest - will water the pots, then think about preparing for my choir rehearsals (I have two). Eek! Hope I don't have to solo in the Stravinsky Mass. Not part of my musical plan for the day.
Thursday 5th October
Eek! Am trying to learn the Stravinsky while eating my breakfast. Crikey. Just in case. He writes beautifully for wind intruments, though opinion is divided on his setting of the words of the Catholic Mass.
Much later...
Oh boy! Spent over two hours at ballet - rehearsing for a performance on stage is serious. Then home to light the bonfire and burn seven barrow loads of stuff. Stuff = gum tree branches, pine tree branches, and hedge trimmings. And now, clean hair, clean clothes, and lovely house visitors, one of whom is cooking the evening meal. Yeay!
Friday 6th October
Have been bonfiring all day, apart from a wee session weeding around the Island Bed. Am sick of bonfiring. There is an awful lot more stuff to go on the bonfire - no other way to 'process' it. Same old reminder to self - the amount of tree branches and hedge trimmings is finite. Unlike weeds, the amount will not increase expontially overnight.
Am very happy to welcome the first rose of the season - and it's a Mary Rose. Yeay! And the later Prunus and the Crabapple trees are starting to flower. Easy to lose sight of these beautiful things when trundling around with the wheelbarrow. There are such wonderful colours around - pink tulips, new red rhododendrons, swathes of pale blue forget-me-nots. I even like the bright pink Watsonias this year! Joy to my garden.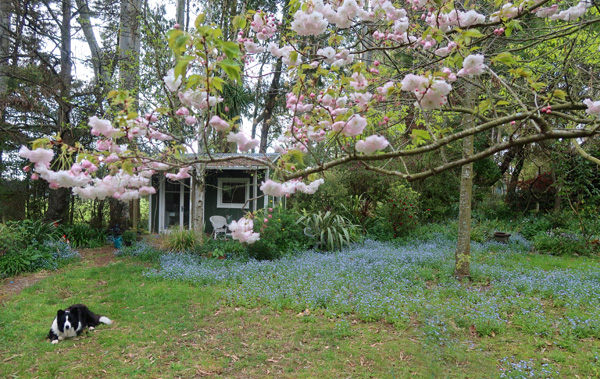 Blossom and Forget-me-nots
Right, One more burning session. No, wait! The wind's arrived. Yippee! No more bonfiring for me today. I can lose the grumpy face, get clean, and pour myself a glass of non-Alcoholic Chardonnay, which I 'zhuzh' up (what a strange spelling) by adding a dash of blackcurrant syrup, hee hee.