Hanging out the washing...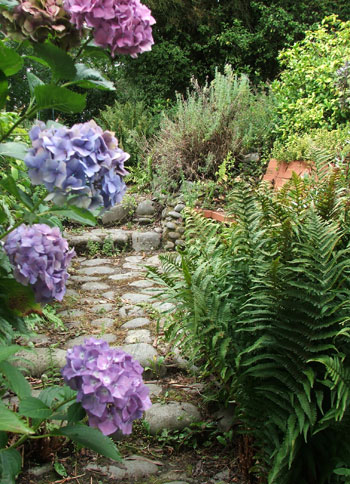 Laundry Stone Path
For the middle eight weeks of winter the sun is too low and gutless to hang any washing outside. But today I did take some things out to the washing line. And so I noticed that the little Laundry Garden was overdue some tender loving care. And new shrubs! Yes, I am definitely allowed some new shrubs.
Wednesday 29th July
I've always liked this garden, but the plantings have become rather scruffy. The Rosemary by the Laundry path has died. The Lavender looks to be on its last legs, too. It's dreadfully woody. The biggest of my Daphne shrubs makes up for both by being super healthy, and is now flowering. So pretty, so fragrant, and so easy to miss, surrounded as it is by low growing Pittosporum foliage. I've let the ferns take over one side of the Laundry path, and as for the mint - enough said.
So I've started to trim and weed. I've completely chopped down one Daphne which failed last year (ending up covered in dreadful yellow powdery stuff). A mass of cornflowers have self-seeded already - thanks to my cornflower mulch in autumn, hee hee. Obviously they can stay.
Here's my on-going plan to rejuvenate this sweet little garden.
Pull out the old purple Salvia, and replace with new Salvias, and perhaps some lemon Thyme.
Do something with the woody Lavender.
Find some flat river stones to widen the path to the washing line.
Move the miniature roses out. Such a silly place for them. Put them in a pot instead.
I am allowed to buy in some replacement shrubs - Lavenders and Rosemaries would be best.
Thursday 30th July
I've done all of the above. I've also sawed down most of a dead Banskia (an Australian shrub-tree). The Lavender (so woody) was easily pulled out, without even digging. Oops. I've planted two little replacements. There's room for a couple more shrubs, and I need some more stones to build up the little stone walls.
I did other things, too, like starting to prune the roses in the Dog-Path Garden, trundling around with my green wheel-barrow. This year it is celebrating its twenty-first birthday. Wow! That's pretty old for a garden stalwart. We've been together all these years! But I was ever so much younger then...
Daphne
Thoughts...
Thoughts : I have a spare Cistus and a Lavatera Barnsley. Would they perhaps like to be planted in the Laundry Garden too? There'll be lots of sun in summer. And another thought. Is it too early to prune the Hydrangeas by the house? They're fairly sheltered from frosts (and there will be more frosts).
Friday 31st July
Right. We are meeting my friend at the dog park. Yippee - she is bringing coffee. Then I'm going to finish the Laundry Garden. Spring daffodils might be nice? I'll shift in a pot of them. And I'll try and take decent photographs of the Daphne. Seriously, Daphne is a difficult shrub to capture digitally. As I've said before, it's too subtle for its own good. But such a wonderful perfume. Mmm....
Later...
Apart from a new Rosemary shrub it's finished, with two more Lavenders planted, plus some foxgloves rescued from the lawn, and top-soil and compost spread all over. I've pulled out as many dead Banksia branches as I can from behind the Daphne. I've levelled the path into Pond Paddock, weeded, and taken photographs all around the garden. I spent the last hour burning my bonfire.
Early Pink Camellia
All day I've tried hard not to succumb to big-machine envy. Next door tip-truck-loads of top-soil are being dumped in holes in the messy front paddock, and a noisy dozer thingy is pushing the stuff around. My spreading is measured much more modestly by wheelbarrow loads. Oh boy. But wait. I enjoy being modular, and doing it all myself, right? Right?
Bye bye, dear month of July. I've enjoyed myself.